Homeland Rolls-Royce & Bentley Knowledge Rolls-Royce & Bentley Parts
Jaguar, MG, Triumph & Austin Healey Parts Restorations
Cars for Sale Rare Things Antique Electric Fans
Talk to the Paw or Hoof Contact us
Sport and Classic Car Company
&
Billions of Car Parts Company
10525 Airline Drive Houston, Texas 77037
281.448.4739
Accessories, wheels, tires and more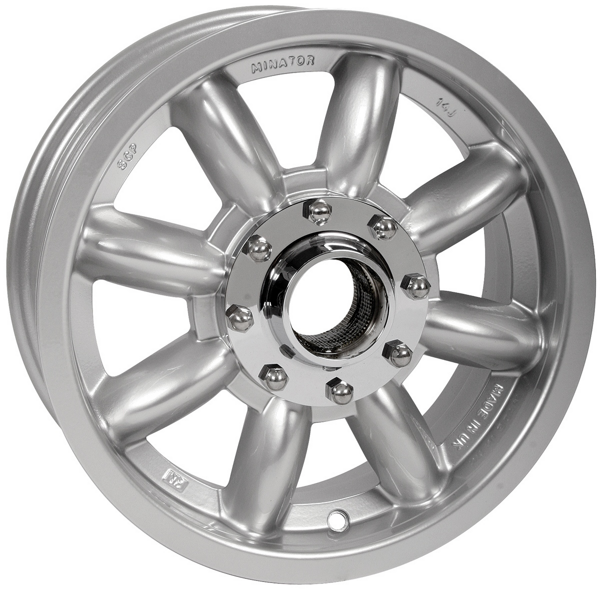 For Austin Healey, MG,Triumph and other British cars with wire wheels.
We offer many motoring accessories for British cars. For Rolls-Royce and Bentley cars we offer custom made to original specifications lambs wool floor over mats for Rolls-Royce Silver Cloud, Silver Shadow and Silver Spirit and Silver Spurs and Bentley cars as well as
nice stainless exhaust headers for MGB and performance cams, ignitions and coils. cross drilled brake rotors, stainless steel brake hoses, oil coolers, cross flow heads, alloy flywheels and other speed enhancements for many British sports cars. Contact us for specific applications, pricing and availability.

We offer new wire wheels, painted and chrome.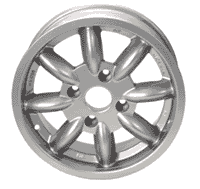 For MGB, MG Midget and Triumph TR6 and Spitfire cars we offer these great looking wheels in direct bolt on and spline drive.
Jaguar E-Type Dunlop style wheels
This style of spline drive wheel was originally made specifically for the iconic Jaguar D-Type race cars and is the inspiration for the wheel we offer for Jaguar E-Type and Jaguar MK II cars that were fitted with wire wheels. These wheels are beautifully made and are easy to clean and balance. This style wheel is also available with five lug holes for cars that came with bolt on wheels and is available for the pin drive wheels fitted on some early E-Types. The wheel is available in sets of four or as singles if a curb or sinkhole is too quickly encountered. These wheels do not fit MG or Triumph. Contact us for pricing and availability.
Vredestein Classic Sprint Tires /Tyres
We are pleased to offer Vredestein Tires to our ever expanding universe of high quality automotive goods and services. We also supply tubes for the tires we sell for cars with wire wheels or rims that were designed for tube tires. The above photo is of the Sprint Classic tread design. These tires have a vintage appearance that looks right on the car. Vredestein tires handle, perform well and make less road noise than old Michelin's did. We can ship Vredestein tires/tyres to anyone that calls a tire a tyre or a tyre a tire! As the population of classic British cars has inevitably diminished over the years, the economics of production and changing styles and sizes has meant that very few quality tires/tyres are manufactured today that provide the ride and handling that fine sports cars really do need to drive as they were meant to and are very much still capable of today.
A new set of Vredestein tires on an Austin Healey 3000 or Jaguar E-Type will bring back fond memories of how delightfully well these cars handled in the 1950-1970's when they were often fitted with Michelin and Pirelli's after the original Dunlop tires wore out. Tests that were conducted by Classic Motorsports Magazine note that today's Vredestein tires handle better than the old Michelin X's did. There were many choices of great tires in those days but no longer. Fortunately for those that want good tires for their special cars, Vredestein makes fine handling tires in unpopular sizes that are perfect for many British cars!
Vredestein makes tires/tyres in the correct sizes that fit many cars found on the pages of our website and for cars not found on our website. . We offer Austin Healey tires, Triumph Spitfire, TR3, TR4 and TR6 tires, Bristol tires, Jaguar E Type tires, Jaguar XK120, XK140, XK150 tires, MGB and MG Midget tires, MGTD tires, MGTF tires, MGA tires, MGC tires TVR tires and many British car tires. Buy your tires/tyres from the people that do just about everything for British cars, the one, the only, the one only, only the lonely Billions of Car Parts Company!
We also supply tubes for wire wheel applications in certain popular sizes.

We offer this period style Lucas hazard warning lamp accessory kit so if your car did not come with this safety feature the car can have hazard warning lamps. Fits under the dash. Fits many British cars that did not come with this safety feature.

KONI shocks

We supply KONI shocks and have for 45 years. KONI shocks are great for the front of a TR6 or Spitfire and for Jaguar XJ6 and XJ12 and XK140 and XK150 and Jaguar E-Type cars as well as many others. We have a small very limited stock of vintage KONI shocks for these models. When they are gone that is the end of them as all have been discontinued from KONI for many years.

Datson 1300, 1600, 1800 rear shocks KONI 80-2008

1969-1971 Ford Capri front shocks KONI 82P1627

1969-1971 Ford Capri rear shocks KONI 80-2071

Volvo 142, 142, 242, 164 KONI front shocks 80-1931

Autodymanics rear Formula Vee


Mazda formula V race car KONI 80T1669

Jensen Interceptor MKIII front shocks KONI 82-1778

Mercedes Benz rear shocks KONI 82J1624
1973-1977 200 series

1969-1976 Mazda1000, 1200, 1300 front shocks


1970-1976 R100 rotary coupe , Mazda RX2, Mazda 616 KONI 82P1675

Mazda RX3, Mixer, GLC wagon, sedan rear wheel drive, Mazda 808 front shocks KONI 82P1816
KONI 86-2123 alt number

1971-1974 Toyota Celica GT front strut insert KONI 82R1782




We offer deluxe canvas and vinyl convertible tops, repair books, car badges, car stickers, Weber Carburetors and parts.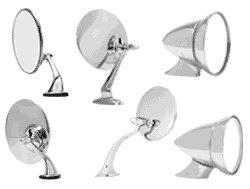 We offer many outside mirror styles such as these.

We offer brand new S.U. carburetors and supply many parts for S.U. carburettors. We rebuild S.U., Solex, Zenith and Weber carburetors.
Recently we rebuilt the Zenith Stromberg carburetors on a 1963 Triumph TR4. The car had been brought to us to resurrect it to drivable condition. This Triumph had not been running since the early 1980's or around 38 years and the carburetors were in truly miserable condition but rebuild them we did.
ANSA Exhaust systems
ANSA made some of the finest performance sport exhaust systems for whatever cars they offered them for. These systems were exquisitely made and tuned to sound deep, throaty and just fantastic. The materials used were very high quality. All of these systems have been long discontinued for British car applications and new old stock systems nowadays are highly sought after as nothing made today compares to the sound and quality of the vintage ANSA Sport systems. If you want vintage sound, you need a vintage exhaust.
We have a VERY few remaining new old stock, rare and long unavailable ANSA systems available.
We have one complete new old stock ANSA S
port exhaust system for Austin Healey 3000 BJ8.
This system is still in the ANSA factory plastic wrapping. These systems have been unavailable for around 20+ years and without a doubt were the best sounding exhaust ever made for these cars. Just fantastic and they last a very long time. Available for substantial offer.
We have one complete extremely rare new old stock system for Jaguar E-Type, a ANSA Sport exhaust, still in the ANSA plastic wrap, that fits all 6 cylinder Jaguar E-Type roadsters and coupes. These systems have not been made in 20 + years and are highly sought after as they no longer exist, except perhaps for this one. Beautiful sound and there is no exhaust that was ever made that sounds as good as the ANSA. These well made sturdy systems seem to last for decades.
Available for substantial offer.
ANSA was purchased by a firm that ended production of all British car Sport exhausts. Sad but the way it is.
For parts orders
Send us an e-mail
!
Sport and Classic Car Company
10525 Airline Drive
Houston, Texas 77037
USA
telephone
281.448.4739