Homeland Rolls-Royce & Bentley Rolls-Royce & Bentley Parts
Jaguar, MG, Triumph & Austin Healey Parts Restorations
Sporting Tires Ignitions Repairs & Services
Talk to the Paw or Hoof Fort Davis, Texas land for sale
Sport and Classic Car Company
&
Billions of Car Parts Company
10525 Airline Drive Houston, Texas 77037
281.448.4739
Accessories, wheels and more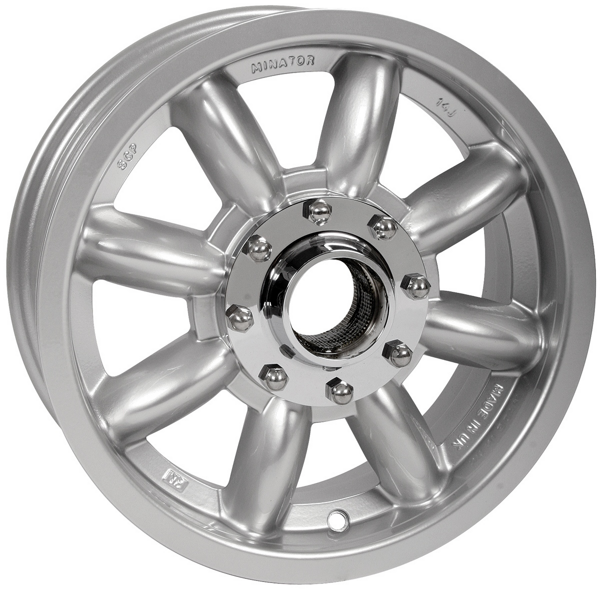 We offer many motoring accessories for British cars. For Rolls-Royce and Bentley cars we offer custom made to original specifications lambs wool floor over mats for Rolls-Royce Silver Cloud, Silver Shadow and Silver Spirit and Silver Spurs and Bentley cars as well as nice stainless exhaust headers for MGB and performance cams, ignitions and coils. cross drilled brake rotors, stainless steel brake hoses, oil coolers, cross flow heads, alloy flywheels and other speed enhancements for many British sports cars. Contact us for specific applications, pricing and availability.

We offer new wire wheels, painted and chrome.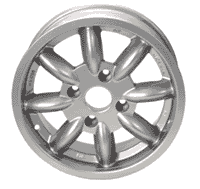 For MGB, MG Midget and Triumph TR6 and Spitfire cars we offer these great looking wheels in direct bolt on and spline drive.
Jaguar E-Type wheels
This style of spline drive wheel was originally made specifically for the iconic Jaguar D-Type race cars and is the inspiration for the wheel we offer for Jaguar E-Type and Jaguar MK II cars that were fitted with wire wheels. These wheels are beautifully made and are easy to clean and balance. This style wheel is also available with five lug holes for cars that came with bolt on wheels and is available for the pin drive wheels fitted on some early E-Types. The wheel is available in sets of four or as singles if a curb or sinkhole is too quickly encountered. These wheels do not fit MG or Triumph. Call for pricing and availability. 281.448.4739

We offer Vredestein radial tires or tyres. Go to our tire section for more information.

We offer this period style Lucas hazard warning lamp accessory kit so your car that did not come with this feature can have hazard warning lamps. Fits any British car that did not come with this safety feature.
We supply KONI shocks and have for 42 years. KONI shocks are great for the front of a TR6 or Spitfire and for Jaguar XJ6 and XJ12 and XK140 and XK150 and Jaguar E-Type cars as well as many others.
We offer deluxe canvas and vinyl convertible tops, repair books, car badges, car stickers, Weber Carburetors and parts.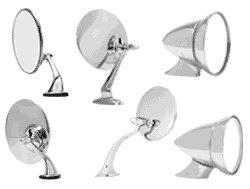 We offer many outside mirror styles such as these.

We offer brand new S.U. carburetors and supply many parts for S.U. carburettors. We rebuild S.U., Solex, Zenith and Weber carburetors.
Recently we rebuilt the Zenith Stromberg carburetors on a 1963 Triumph TR4. The car had been brought to us to resurrect it to drivable condition. This Triumph had not been running since the early 1980's or around 38 years and the carburetors were in truly miserable condition but rebuild them we did.
ANSA Exhaust systems
ANSA made some of the finest performance sport exhaust systems for whatever cars they offered them for. These systems were exquisitely made and tuned to sound deep, throaty and just fantastic. The materials used were very high quality. All of these systems have been long discontinued for British car applications and new old stock systems nowadays are highly sought after as nothing made today compares to the sound and quality of the vintage ANSA Sport systems. If you want vintage sound, you need a vintage exhaust.
We have a VERY few remaining new old stock, rare and long unavailable ANSA systems available for cars such as we one for Triumph Spitfire 1300-1500 fits 1971-1974 not after VIN 10002.
We have one complete new old stock ANSA Sport exhaust system for Austin Healey 3000 BJ8. This system is still in the ANSA factory plastic wrapping. These systems have been unavailable for around 20+ years and without a doubt were the best sounding exhaust ever made for these cars. Just fantastic and they last a very long time. Available for substantial offer.
We have one complete extremely rare new old stock for Jaguar E-Type ANSA Sport exhaust, still in the ANSA plastic wrap, that fits all 6 cylinder Jaguar E-Type roadsters and coupes. These systems have not been made in 20 + years and are highly sought after as they are just gone, except for this one. Beautiful sound and there is nothing that was ever made that was close. These well made sturdy systems seem to last for decades. Available for substantial offer.
We do have a ANSA rear exhaust for a BMW 320i that is available.
ANSA has regretfully discontinued all Triumph, MG and Jaguar Sport exhausts. There are cheap copies made in Mexico probably from old Corona beer cans that rust out in a year and fit poorly as they are made from thin cheap metal with thin chrome plating.
We also buy new old stock ANSA systems.
For parts orders call 281.448.4739 or Click here and Send us an e-mail!
Sport and Classic Car Company
10525 Airline Drive
Houston, Texas 77037
USA
telephone 281.448.4739