0.38

A new Rolls Royce Silver Shadow left hand floor panel temporarily sitting on our office floor. We sometimes keep these panels in stock. If the left or right floor of your Silver Shadow has rust damage, holes etc, we provide new original floor panels so the problem can be fixed with the right stuff. These are complex stampings that replace the entire left or right side floor. Silver Shadow II cars had an issue with the hot catalytic converters causing accelerated rusting out of the floors right under the drivers feet. Car floors also rust out from exposure to the elements as Silver Shadows have been around since 1966.
Hot Feet and the Cold War

This photo shows a left hand Silver Shadow II floor that has rusted away. The catalytic converter is clearly visible right through the large hole in the floor and is convenient for roasting toes or marshmallows. After an old floor is replaced, we fit a section of heat shield and foil backed insulation to help keep the exhaust heat from reaching the carpeting and your nose. This material also keep the air conditioned air inside the car. We supply new floor panels for the left and right side.
Rolls-Royce and Bentley cars have specially designed exhaust systems as all cars do. Should a car owner take their car to a muffler shop for exhaust replacement using generic parts then problems may well or will happen as generic exhaust parts can cause the engine and metal parts to overheat. Such altered systems can cause the carpet underlayments to catch fire as exhaust flow can be restricted from the use of non standard pipes and silencers meaning the exhaust pipes simply get too hot and fry everything close to them. Sometimes the pipes get red hot from too rich a fuel mixture and this is not absolutely good. Generic muffler shops do not generally employ people that have been trained in the design and fabrication of exhaust systems used on expensive cars and are not usually not qualified to design such a system for these cars using generic parts.
But this sort of thing happens a lot anyway as exhaust parts that actually fit made to factory specification are much more expensive than generic parts that do not fit. Generic car parts and genuine or exactingly reproduced parts are not the same sort of comparison as say generic drugs and brand name drugs. Generic suppliers will frequently argue that a $29.00 or whatever muffler with a totally different configuration has the same functionality as a much more expensive properly performing and fitting muffler but this is just not so. We offer replacement carpets as per original available in 31 Wilton wool colors and 32 colors of leather binding in individual sections or complete sets for cars that have burned from the installation of poorly done exhaust systems or age. We also supply new high heat insulation.
Hoods, Tops, Carpets and soft trim
We supply new convertible tops or hoods made in the original Everflex material and headliner kits for drophead or convertible Corniche as well as Silver Shadow, Silver Cloud, Silver Wraith, Silver Spur, Silver Spirit and many more in the original material and colors. We also supply factory tops for the Bentley GTC convertible. The interior of a Rolls-Royce or Bentley was and is made from the finest materials available such as Wilton wool carpets bound in leather for the cabin and boot. The interior trim is made from contented cows and nice sheep's wool. We supply carpet sets as well as individual carpet pieces subject to high wear such as the drivers floor carpet section. Carpets are made just as the originals were and many colors were and are available. All single pieces and sets are made to order. We supply Wilton carpet material by the yard and supply the original metal and plastic door panel clips and exterior chrome moulding clips for cars made from 1950-2015.
We supply new convertible top cylinder assemblies for Bentley Azure and Rolls-Royce Corniche and Bentley Continental. Some top cylinders are no longer available and we rebuild them. We have rebuilt the top cylinders for 1950's coachbuilt Silver Wraith dropheads.
Get your motor running, head out on the highway
The original starters used on Bentley R Type, MK6, S1 and Rolls-Royce Silver Cloud, Silver Shadow and early Silver Spur series cars are no longer supplied by the factory. We do supply new aftermarket starters for the V8 Silver Cloud ( not for Cloud 1).
Freshly restored six cylinder 1955 Bentley S1 starter assembly This starter is from an automatic transmission model.
Regarding original vintage Rolls-Royce and Bentley starters, we do rebuild them for many Bentley and Rolls-Royce models.

Original Bentley uncut master key blank for many later 1990's cars such as Azure, Brooklands Continental R, Turbo Contact us with your VIN. Some cars require a transponder chip to start the engine and some don't. Fits 44000 to 66000 or so series depending on VIN.

Original Rolls-Royce master key blank for later 1990's cars such as Rolls-Royce Silver Spur, Silver Dawn and Silver Spirit. Fits Fits 44000 to 66000 or so series depending on VIN. Some cars require a transponder chip to start the engine and some don't. We also supply the btransponder chips.
Original uncut YALE key blanks.
We have a very limited stock of original YALE key blanks for certain Rolls-Royce and Bentley cars as follows.


RH7492 key Many pre-war Rolls-Royce cars and Bentley MK 6 and Bentley R-Type. Original Yale key blank.

RH7485 key Silver Cloud, Bentley S and early Silver Shadow original Yale key blank-Valet limited


UD24229 key Rolls-Royce Silver Spur and Bentley original limited valet Yale key blank
2022 parts flash. We are now parting out a 1974 Rolls-Royce Silver Shadow. The car was hit in the front. No grill or front fenders. The car has a good hood, doors, trunk lid and lots of good parts.
We have the following good experienced Rolls-Royce engines:
circa 1955-1959 six cylinder engine for Silver Wraith or Silver Cloud
circa 1978 Silver Shadow engine USA specification
circa 1979 Silver Shadow engine UK specification
circa 1986 Silver Spur or Silver Spirit engine USA specification
0.1 If a late model Bentley Continental GT or Bentley Flying Spur has been in a bump, we offer new body parts such as bumpers, tail lamps, more bumpers, fenders, grilles, headlamps etc. for Bentley Flying Spur and Bentley Continental GT as well as hoods or bonnets, fenders or wings, door shells. door glass and wiring looms. We also offer many nice accessories for the GT, GTC and Flying Spur.
0.1

For some pre-WW2 cars such as the Rolls-Royce 20/25 we supply new wiper arms and blades. We do rebuild starters, generators and carburetors from these cars.
0.2 We supply new power window motors for some models, new drive chains and more parts for the window regulators with motors not made by Piper. The chain links can and do get rusty over many years of service. We supply parts such as sprockets, couplings, gears and other parts to repair 1958-1994 power windows and supply new window regulator assemblies for Bentley and Rolls-Royce cars built after 1994.

For later models such as Bentley Arnage, Flying Spur and Azure or Rolls-Royce Silver Seraph and late Silver Spur, we supply complete electric window regulators. Bentley GT models use a separate motor module and regulator and we supply these as well. Seperate parts for these regulators are not supplied but we do supply window regulator parts for earlier models depending on VIN.

0.7 a new set of factory Bentley Arnage PV28745PB lambswool overmats in black. No longer supplied by the factory, this is our last set still in the box and is likely the last remaining set anywhere. Comes from rare Scottish black sheep...supposedly.
Whining howling screaming Pumpkins
Perhaps your hearing is like Arturo Toscanini's was and you don't like noises that are unbecoming to your car such as those emitted by worn differentials. Differentials are also known as the third member, the pumpkin, the rear end and other names we will recall later. For unfortunate instances of failure , we offer Bentley and Rolls-Royce factory rebuilt exchange differentials for certain VIN ranges to correct unseemly noises. The rear axles on these cars sometimes become worn and make a clunking sound that is hard to ignore. We also supply for some differentials, new crownwheel and pinion gear sets.

We supply front and rear rubber windshield or windscreen seals for Rolls-Royce and Bentley Chinese Eye Coupes.
03.11 We have a single set of four New Old Stock wheelcovers or hubcaps suitable for all Rolls-Royce Silver Cloud. These parts have been discontinued by the factory for many years. To be sold as a set only and is suitable for that very high grade Pebble Beach restoration.
0.5 New front windscreen/windshield glass for certain coach built cars. We can supply new front and rear windshield rubber seals for certain coachbuilt Silver Cloud and Bentley cars.
.0681 We supply new door seals, window seals, trunk, glass seals and many rubber seals for Corniche.
.0551 We have two new complete electric window lift assemblies with motors for Corniche with VINs from 05037-16968 and Bentley Continental with VINs from 09035 to 16890. These are 1980's cars.
.0554 For Silver Shadow II and Silver Spur series with electric speedometer we can supply the long gone speedometer signal generators. This part supplies the signal to the speedometer and is the cause of many non working speedometers.
0.6 We supply many new Rolls-Royce Silver Shadow, Silver Spur, Ghost and Wraith body parts such as body mouldings, handles, body rubber, fenders, doors, lamps , bonnets or hoods and plastic molding clips that retain the body chrome mouldings.
.0667

The Rolls-Royce and Benrtley G-Conscious Valve or deceleration valve located near the famous distribution valves. These are frequently found to be jammed up with rust and goo and are therefore unconscious. This valve was a sort of a early non-electrical ABS brake part. We supply a G valve sealing kit for these valves. CD4820 for 1966-1980 RR363 fluid cars and CD6223GMF for 1980-1998 green fluid cars.
.0669 The little plastic grill that fits in the center of the dash in Silver Shadow II and Silver Spurs and Corniche cars. These are found broken from time to time.
0.6.5 Steering racks. Rebuilt racks are sold exchange only meaning the old rack has to be returned to us.
0.7 New Bentley UB42645 Flying B grille mascot suitible for Bentley Eight, Bentley Mulsanne and more. Beautiful and in stock.
0.9 Factory re-manufactured engines, new engine blocks with liners or without as well as all manner of engine parts. The remanufactured engines are virtually new. There are some 61 variations and a few are still available so send your VIN to find out.

,0910 This familier appearing part secures the top end of the power antenna on Silver Shadow and many Silver Spirit and Silver Spur and Corniche. It has the internal rubber grommet seal. They can break when removed and eventually the grommet wears out allowing water into the electrical section of the mechanism.
.0911 Bentley and Rolls-Royce V8 engine valve lifters or cam followers UV11163PA and RH7223
Does that large and heavy Goodwood built Rolls-Royce Ghost or Phantom door need a little gentle assistance?

For the new generation Goodwood Rolls-Royce Phantom Coupes we supply new door closing assist assemblies and everything else for these cars.
What is happening to 1980's and 1990's cars as time goes by?
These cars have numerous engine, cooling, vacuum, A/C, steering and brake related rubber hoses located under the hood. Over the years, engine heat and age tend to make a rubber hose harden. When they harden, a hose can easily break or split causing leakage of whatever the hose carries. Jobs such as removing the fuel injection often results in breaking old hoses because the hose is not pliable . Vacuum or intake air hoses when cracked or hardened will leak causing an engine to run poorly. Most hoses are specially formed to hook up various parts and are made to resist deterioration from the fluids they carry. Most hose material is made to contain something specific. A/C hoses contain high pressure refrigerant. Power steering hoses contain hot steering fluid. Vacuum hoses are made stoutly so they do not collapse from the effects of vacuum. Coolant hoses are made to resist hot coolants and engine heat. . There really is not a generic hose for everything. I have seen many cars with water or coolant hose used for power steering low side hoses or for vacuum hose. Coolant hose is not made to resist power steering fluid and the hose will fail much faster that the correct hose.
During large scale renovations on 1980's Silver Spur series we typically replace all the intake air and vacuum hoses, power steering hoses, coolant hoses and brake hoses. This is a good idea for all cars of this vintage if never done.
We don't want to steer you wrong
Let's discuss the rebuilding of Rolls-Royce and Bentley power steering racks. These large and heavy assemblies can and do leak power steering fluid all over your driveway. Power steering racks are complex and hard working assemblies that operate with the high pressure required to make your car steer without much effort. Without a working steering rack, these cars are about impossible to steer when the car is stopped. Rebuilding steering racks is undertaken by many generic rebuilding shops and we have found that competitive nature means the rebuilding is usually done as cheaply and quickly as possible to allow the rack to be sold as cheaply as possible. What happens with a high percentage of these racks is they will begin to leak after 30 to 90 days or within a year at best. The racks we supply do not leak or have problems for many years. Sometimes for many many years as we never have them returned. To rebuild them to this quality costs more than the cheaply done racks. We also supply new power steering hoses and belts for these cars.
We also rebuild power steering boxes and steering dampers for Silver Cloud and Bentley S and for Silver Shadow and Corniche.
Stuck in the middle with you
.093

Here is a complete new electric seat mechanism with motor and clutches for Silver Shadow and some Corniche. If your seat is dead or twitchy, this assembly may just be the ticket or the problem could be the switch, relay or wiring.
.092 We have a few new old stock front and rear chrome bumper parts and overriders for all early Silver Shadows and Corniche cars with chrome bumpers. These parts are frequently rusted or bent these days. We have a new old stock chrome bumper center section available.
0.10 New factory Rolls-Royce Silver Cloud front windshield or windscreen glass and Bentley S, Silver Spur and Silver Spirit windshield glass. We can supply some coach built glass as well and also supply door window glass for some models. We offer original glass and the rubber gaskets or seals for many models. New windshields for Silver Cloud, Silver Shadow, Silver Spur and Silver Spirit are usually in stock.
0.12 Special tools. We can supply certain special tools that are electronic in nature. These specific tools analyze the electric seats, electric top, A/C, ABS brake system analysis and more functions. W offer a great many special tools for removal or assembling various assemblies. Did you know that replacing the upper ball joint on Shadow, Corniche and Spur/Spirit requires a special tool to torque or accurately tighten the special locking ring nut? Otherwise there is no way to know if the locking ring is properly tight or not. Doing such jobs by feel is not a safe way to ensure that the suspension will stay together. Imagine if you will a ball joint coming loose at speed. The upper front suspension assembly with wheel would flip out and away from the car resulting in a catastrophic situation for all concerned. A lot of car parts require accurate torque of bolts or various parts. Over the years that we have been in business, we have found countless bolts left loose or that have worked their way loose due to sloppy workmanship by people that lacked the skill or integrity required to deliver safe work on cars.
We sell a lot of suspension ball joints and few special tools so this is a scary situation. We have found that some people hit the locking ring with a hammer and drift to make the ring tight. This sort of thing is totally unsafe for a critical part on a 6000lb car. Thus it is best to have this job done by a shop that is equipped or the car owner should buy the tool if they want to drive the car and live long and prosper.
0.13 There are no remaining new LH or RH front fenders or wings for Silver Cloud 1 or 2 at the factory but we do have a single new 307373226 Rolls-Royce Silver Cloud I or Silver Cloud II right front fender in stock. It was the last one the factory had so we bought it.
0.13.5 Rolls-Royce Silver Spur II,III, Silver Spirit II,III , 1980-2000 Limousine, Bentley Mulsanne, Bentley 8, Bentley Brooklands front fenders or wings. AHP3028 and AHP3029 in stock
0.14 Oil Filters? Sure, we have them for current models all the way back to 1940's models.
0.15

New boot/trunk mounted back lens assemblies for Silver Spur and Spirit are in stock. We offer new lenses and lamps for many other models as well such as Silver Cloud I, II, III and Bentley S I, II, III as well as Silver Shadow, Corniche and all later models. Lenses and lamps are available for cars from 1955-2017.
0.15.1

A one piece tail lamp lens for Silver Cloud 1 & 2 and Bentley S1 and S2. These are are the genuine article made from official Rolls-Royce red plastic each one kissed by the fairies.
New Silver Cloud III and Bentley S III upper and lower tail lamp lenses. These lenses are supplied as an upper and a lower lens with the top lens available in red or amber. These are LUCAS lenses properly marked. These lenses are no longer supplied by the factory but we still do.
0.15.4

Late 1980's Bentley Continental R tail lamp lens assembly We also supply these for Bentley Azure.
0.15.7

Here is a selection of new lenses and lens seals for Rolls-Royce Silver Shadow. We usually have all of these in stock.
0.15.7

Rolls-Royce Camargue left front turn signal lens
For Bentley MK6 and Bentley R-Type and Rolls-Royce Silver Cloud, carbureted Corniche and Silver Shadow and Bentley T, R-Type and MK6 we supply new carburetor and intake parts and rebuild these carburetors as well. We rebuild the Rolls-Royce Corniche Solex carburetor and the twin SU carburetors.

A new rubber air boot for the carburetor intake used for many Bentley MK6, Bentley R-Type and Rolls-Royce Silver Cloud 1.
Fuel Pumps:
Many different fuel pumps were used on Bentley and Rolls-Royce cars and various pumps deliver different pressures and volumes of fuel depending on whether the car is carbureted or fuel injected. Some cars use more than one fuel pump. Fuel pumps are located under the car or inside the fuel tank. It is best to contact us with your VIN so we can supply the correct pump.
If your RR pump
has taken a dump
don't be a chump
and buy a pump
intended for a generic lump

This is one of our rebuilt Rolls-Royce Silver Cloud fuel pumps with new rubber mounts. New Silver Cloud pumps are no longer available so we rebuild them to as new a condition as parts allow thus our pumps are more expensive than pumps rebuilt with a can of spray paint. These pumps are not rebuilt by cleaning old parts and calling them good. These pumps are about new as we use new pump heads and make new case valves.

This is a new fuel pump used on all Rolls-Royce Silver Shadows and Corniche models from 1966 to around 1977 for USA market models. Cars built for various countries used them after 1977. We supply fuel pumps for all Rolls-Royce and Bentley cars built after 1955 and for some cars built before 1955. You can't replace your heart with a new one grown from your own DNA yet but you can replace your fuel pump with a new one. We also supply fuel pumps for fuel injected Silver Shadow, Silver Spur and Silver Spirit as well as all Bentley models from 1946 to current models.
We can supply a factory fuel pre-pump elimination kit that does away with the fuel tank internal mounted pre- pump on certain Silver Spurs and Spirits. You need this if the pre-pump conks out.
0.16 New Rolls-Royce Silver Spur and Silver Spirit front fenders (wings) and hoods (bonnets) and front windshield glass are in stock.
0.18

We do supply all manner of brake parts for cars manufactured after World War II and before World War III. Here is a remanufactured brake master cylinder for a circa 1952 Silver Wraith available as an exchange unit and ready for painting.
We are now supplying new Bentley R-Type brake drums and Bentley S series brake drums. Bentley S drums are the same as Rolls Royce Silver Cloud brake drums.
We supply new front wheel cylinders for 1950's later series Silver Wraith and Bentley cars. The early style brake expander cylinder is also available new. We stock factory brake cylinder rebuild kits for all Silver Cloud and Bentley S series. We supply brake and hydraulic kits and parts for all Silver Shadow, Silver Wraith, Corniche, all Bentley models from 1946 onwards and stock various brake rebuild kits and parts for all Rolls-Royce Silver Spur and many post 1980 cars.
0.19
We supply new original radiator hoses and heater supply hoses for Bentley MK6 and Bentley R-Type, Bentley S series, Silver Shadow, Corniche and onwards Rolls Royce and Bentley cars. We stock many heater control valves and A/C parts.
0.20 We stock a new differential crown wheel (ring and pinion) gear set with the desirable 2.69:1 ratio for certain Silver Spur models. ( If your rear end is clunking, you need one of these.) These beautiful gear sets are wrapped in a special oil cloth and factory boxed.
0.21 New Silver Shadow carburetor choke pipes. These can and do break when the exhaust manifolds are removed. Most of these are no longer available from the factory.
0.22

New Silver Shadow complete tail lamps. Here is a handful of a new Silver Shadow three lens style tail lamp assembly complete with lenses, bulbs and sockets. The amber turn lens is no longer available from the factory and instead they supply the entire lamp. We still do supply all the individual lenses at this time. We also supply lenses for Corniche and many other models.
0.23 Perhaps the last new old stock left rear Silver Cloud shock absorber on the planet.
0.25 We stock Original Yale (analog) key blanks for 1980's up Silver Spur, Corniche and Silver Spirit without remote locking.
025.1 For USA and other markets 1977-1980 Silver Shadow II, Corniche and Silver Wraith front bumper impact strips. Many cars need one or two by now and two are used for USA cars with front license plates. Rolls-Royce dealers are no longer able to supply them but we have new ones in stock. We also supply the rear bumper strip and the non USA front single impact strip.
0.26

We stock the little bitty teeny weenie dash light bulbs made by the elves for Shadows and Spurs. Brighten up your life and don't be a dim bulb. There are 27 light bulbs of five different types used with a Silver Shadow II dash. We stock them all.
0.27 Radiators. We supply many rebuilt and new radiators depending on model for Rolls-Royce and Bentley cars built from 1946-2017. Some are exchange.
For Bentley GT, Flying Spur, Arnage and certain VIN's of Silver Spur and 2004 up Rolls-Royce Phantom we offer new radiators with no exchange at this time.
0.28

We have limited of stock new Right and Left non electric remote adjustable outside mirrors for Silver Shadow II and supply the required parts to fit them on cars that did not have a mirror on each front door. Few cars were fitted with an outside mirror on the passenger side but more rearview visual aids when driving is always a good thing with a big car. We also supply new mirror glass if one becomes "unsightly". If your car never had a passenger side mirror, you can have one now.
0.29
Here we have a new UE70378 twin distributor listed for the Bentley Turbo and also fits many 1990's Rolls-Royce and Bentley cars depending on VIN. We also stock the inside drive belt as well as caps and rotors for the twin distributors. Our workshop rebuilds and services these and many other distributors.
0.31 Car Covers. We supply Cover Craft car covers for many Bentley and Rolls-Royce models. To order a custom fitted cover contact us for specifics. Be sure to tell us if you have a long or standard wheelbase model. Why do you need a car cover? Aside from the obvious reason that they protect the expensive paintwork, when owners bring their cars to us for service, we always ask them to bring their cover along so we can keep the car "tucked in". No one wants their car scratched and a quality cover really helps. There are very cheap covers on the market for $30-40. or such and these covers are trash. You simply cannot buy good material for such a sum much less pay someone to make it.
0.33 We have some New Old Stock original super rare Yale key blanks for R-Type Bentley cars. If your car is a nice one and you have a aluminum key for it, now you can have the real thing again.
Sloppy bush
0.37

This Metalastic rubber bushing part centralizes the transmission shift linkage on Silver Cloud and Bentley S series. We find that this part is almost always old and rotten so the shift action is therefore sloppy. The metal part in the center will just flop around within the rotten rubber making an egg shaped wear hole. We also supply the four small linkage bushings for the shift linkage that also fit the handbrake linkage.

At this time we can supply some parts for left hand drive and right hand drive A/C climate panels for 1990 up to certain VIN's as in the photo.
.039 We supply new vinyl roofs made from the original Everflex material in the original 31 colors for Silver Shadows, Silver Wraiths, Silver Spurs and more.
The above parts are but a very few of what we supply and hopefully you get the idea that we can help with your parts requirements in many instances.
UD75095 module ECM - The Rolls-Royce convertible top or hood module otherwise known as the assy microprocessor & printed circuit board for later Rolls-Royce Corniche and the same series Bentley Continental. These modules have been unavailable for many years but we can usually sort them out.
Rolls-Royce and Bentley Speedometer and Odometer repair

.40 Sometimes the speedometer within these instrument clusters used on later model Rolls-Royce Silver Spur, Seraph and many Bentley's will fail. These units are no longer supplied by the factory and many owners and Bentley and Rolls-Royce dealers send these units to us to repair and for odometer repair.
Call 281.448.4739 for parts
Now we go to a few single digit items of interest.
1. New Silver Cloud 1,2,3 and Bentley S 1,2,3 brake drums. These are genuine parts. We also offer many new and remanufactured brake related parts for most 1950 and up Rolls-Royce or Bentley automobiles.
1.2

We supply these Silver Cloud 1, Bentley S1 and Bentley R-Type starter drive shells. These shells break apart upon occasion after 60-70 years of banging up against the ring gears while starting engines.
2. We also stock all the usual parts to rebuild most RR and Bentley carburetors made since 1946. We keep floats, jets, gaskets, shaft seals, float valves etc. We also stock a lot of the fiddly bits because fiddly bits are sometimes required.
3. We have the last of new old stock never installed for Rolls-Royce Silver Cloud II and III and Bentley SII and Bentley SIII, UR4687 original steering wheels.
4. Sometimes we offer new flywheels for 1955-1959 Rolls-Royce Silver Cloud 1 and Bentley S Many of these cars are suffering from worn or broken flywheel teeth that can and do ruin the starter gears. Now this problem can be fixed. These are made in very small production runs and are expensive but what are you going to do, use a 50+ year old used one with ground down or broken gear teeth for your nice RR or Bentley?
6.

For Silver Cloud II and III and Bentley S2 and S3 owners, we have new Lucas Screen Jet with two terminals electric windscreen washer assemblies available complete with bracket. For Silver Cloud I and Bentley S1 owners, we offer the vacuum model.
7. We supply many body seals such as windshield and door seals. We supply just about all the body rubber parts on Silver Cloud, Silver Shadow and Silver Spur however Silver Spur and Spirit door seals are no longer supplied. We supply new windshields, back glass and lenses for many models to enable nice detailing as well as weatherizing for paint restoration work. A note of caution. Glass for these cars is expensive. If you are trying to save the old glass, it is always best to cut the glass out of the old sealing rubber as glass does become more fragile with time and exposure to the sun. If you want to save money, the extra time expended carefully removing glass is usually worth the effort.
8. Exhausts for Roll-Royce and Bentley cars. We supply all manner of stainless and mild steel exhaust sections and exhaust related parts such as original exhaust hangers, gaskets, seals and olives. Mufflers, silencers, connections pipes, resonators, tailpipes, headpipes. You can buy the whole system or parts of it.
We stock new Euro style headlamps for Silver Spirits, Silver Spurs, Bentley 8 and Brooklands. These lamps were what the cars were intended to have but USA headlamp laws at the time prevented them from being fitted to USA bound cars. This left hand drive specification kit requires no extra parts other than a car and is easy to fit. Visibility at night is much improved and the lamps look great as well. We also supply new front, side and rear lenses for this model. We supply replacement glass lenses for these Euro lamps so you don't have to buy a complete lamp to replace a broken or chipped lens.

11. For Silver Cloud 1, 2 and Phantom V and Bentley S, we have one extremely rare set of restored in England LHD Rolls-Royce headlamps with the little RR emblem inside the glass. These lamps are not new but are very nice. New lamps have been unavailable from the factory for many years.

11.5 We have a single set of LHD original new old stock, never fitted CD571 Rolls-Royce headlamps ( with the RR emblem inside the glass) for Silver Cloud 1 and 2 and for some Silver Wraith and Phantom V.
12. Silver Shadow power window motors and other window parts as well as post 1966 Bentley cars are usually in stock.We rebuild many motors no longer available new.

This well dressed beautiful white peacock visited our shop and strutted his stuff.
Rockers, Rolls and Bentley Sills
Here are replacement inner and outer steel rocker panels or sills for Silver Cloud and Bentley S series. These parts are the long section located under the doors on any car. Prone to rust, rocker panels or sills are an important structural section of a car, especially convertibles. On many cars we have found much of the metal in the original parts has rusted away and was replaced perhaps many times with plastic body filler, chicken wire, the London Times and the poor repair is hidden under the paint. Of course this sort of thing does nothing at all to stop rust. The good fix for heavily rust damaged sections is to not monkey around with plastic body filler trying to "fix" structurally weakened rusted away body sections and instead slice off the inner and outer panels and weld in new ones. We offer many rust repair sections for Silver Cloud series, Silver Shadow, Silver Spirit and Silver Spur. The banana is not a genuine Rolls-Royce banana and does not come with the rockers.
13.1.2 We now have "original front damper nut covers" for Silver Shadow, Silver Spur and Corniche cars back in stock. For those of you whose shock nuts have become "au natural" and you, being a properly stylish owner no doubt want to return some measure of dignity to your nuts. This is the part that fits above the top shock nuts to give them a well appointed appearance.
13.1.35 We are a Covercraft dealer and offer COVERCRAFT car covers for just about every Bentley or Rolls Royce made. These are custom fitted covers not the generic sort and are made from the best materials available. We stock Silver Shadow covers in standard and long wheel base as well as Spur covers. We and all quality shops always prefer for owners to bring their cars with their car covers so we can keep their cars covered while in the workshops. These covers are available in many colors and choices of materials.
13.1.36


The fix for the wriggling rearview mirror syndrome (WRMS)
The oval rubber part in the package is called a pedestal joint and fits under the outside mirrors on Silver Shadow II and Corniche II cars. Your pedestal joint may well have rotted away by now and the mirror assembly shakes and vibrates. The mirror base with joint should like the mirror in the right hand photo. This situation of a rotten or missing mirror joint can make the cars on the road behind you appear to be in an earthquake. In some parts of the world it is good to know if you are in an earthquake or not! The metal mirror base without a good joint is rubbing metal against the paintwork with every bump. Besides all that, the car is nicer and more finished with them back where they belong.
13.2.36 We stock new inside rear view mirrors for some Silver Shadow and Bentley T and some Corniche cars.
13.17.97
Perhaps you are continually aggravated by having to use a golf ball or wad of duct tape or whatever as your gear selector knob on your Silver Shadow or Corniche as the original gear selector knob has cracked or become lost? This is the original knob used on cars built after VIN 6003 and was used at least to VIN 26700. We can supply the earlier shifter knob that is more pencil shaped as well.
13.18.99 We offer all manner of Silver Shadow and Silver Cloud power window switches, gears, drive chains, couplings and motor parts to repair the electric window mechanisms as well as window regulators for Rolls Royce Seraph and Arnage series cars and many others.
13.18.99041

Electrial parts such as this high/low beam floor switch for Bentley R Type, early Silver Cloud and other models are usually in stock. We stock many switches, solenoids, relays, motors, parts of motors, connectors, wiring looms, bulbs, fuel pumps, sensors and sundries for a great many models.
13.18.99042

Door bump stops.
Your Silver Shadow, Silver Spur or Silver Spirit most likely needs these bump stops. This part is fitted inside the door lock strikers on the post and keeps the door from making an unseemly banging or clunking noise when the door is shut. Most of these bumps have fallen off, are rotten or are smushed from time and use. These are supplied as a set of five and are easy to replace. It's the little things....
13.16.99078 Jubilee clips. Yes we can supply Jubilee clips that are known as hose clamps in the USA. These clamps are not stamped "Jubilee" but are what the factory supplies now and they come in a bag marked Jubilee clip. The parts look like the original clips and unless you are looking at them with binoculars or have Superman vision it will be hard to tell.
13.17.888732

A rear brake disc for late 1990's Rolls-Royce and Bentley cars. The rear brake discs are different from side to side. We supply brake pads and all manner of brake parts for Continental R's as well.
To return to our Rolls-Royce and Bentley section one click here: RR and Bentley
I'm not digging those bad Vibrations
These parts are fitted to the rear cross member and suspension trailing arms on Silver Shadow series and early Silver Spur series cars. The larger parts are cushions made from densely woven metal mesh that are designed to absorb and reduce road shock and subsequent vibrations from the crossmember to the car body. The entire rear suspension and differential is hung from the rear crossmember, a large and heavy structural member. The smaller parts are conventional metal and rubber bushings for the rear trailing arms. As cars age these cushions and bushes slowly deteriorate and the ride quality diminishes. The shock absorbers and springs take care of larger bumps and the cushions help diminish the smaller vibrations while driving down a road so the car just wafts along transporting the passengers in a smooth, quiet and dignified manner quite unlike any other car. Yes, we supply all of these parts to restore the ride of these cars to the delightful way they were.

For Rolls-Royce Silver Seraph and Bentley Arnage and Azure we offer new front and rear struts or dampers or shocks and many front and rear suspension parts.
Boot-E-licious

All Silver Shadow, Corniche and early Spur and Spirit cars with a metal header/expansion tank probably need one of these little rubber boots as in the photo that protect the contacts on the fluid level probe. This tank is located above the radiator. The boot fits over the fluid sensor connection located on the tank itself. Have a look at your tank and you will most likely see two wires going to the small round probe plugs and you may also see the remnants of the boot or a dried up rotten boot or no boot. We have these boots in stock. We also stock the seal that fits inside the tank filler hole that the filler cap mashed against. These seals are usually hard as a stone. The cooling systems do not use a standard style radiator cap. The pressure is held with a special pressure valve that is located inside the expansion tank. Sure we stock the valve. The big black cap on the tank is a filler cap only and this is the way of all Rolls-Royce and Bentley cars from long ago to the introduction of the plastic reservoirs that use a standard appearing radiator cap. We stock the filler caps as well if yours has cracked and we supply the plastic tanks for most models.
We have countless parts, (ok, not really countless, someone could count them all eventually but who wants to spend their life counting car parts?) anyway, we have countless parts and cannot (won't) list all of them as we do not have an entire Crewe of people devoted to listing ever changing part numbers and ever changing prices for a shopping cart setup cool as that might be.
Previously new parts and assemblies
While we primarily supply new parts as there is nothing better than high quality new parts, we do have some used parts and assemblies available. Here are a few.
1. A complete V8 engine and transmission for a circa 1977- 1980 USA market Silver Shadow
1. B A complete no smog control style engine for a home market ( U.K. ) Silver Shadow 1977-1980
3. A complete V8 engine for a circa 1986 Rolls-Royce Silver Spur
4. A complete set of original wooden door caps for a long wheel base Silver Shadow or Silver Wraith
5. Many parts from a mostly complete except for the front end ( the car hit something bigger than it was) 1974 Silver Shadow parts car.
7. An extremely scarce complete six cylinder circa 1957 Silver Wraith engine with carburetors and air cleaner. Somewhere in the world is a Silver Wraith that is missing it's engine perhaps to a mis-guided conversion. This engine should also fit any 1946-1959 Bentley and Rolls-Royce car.
8. A complete rear axle assembly with differential for a Silver Cloud 1 or Bentley S1
9. complete carburetor setup for Silver Shadow II
Core charges explained
What is a core? There are many assemblies and parts for these cars that are no longer available new. To rebuild certain parts we have to have the old assemblies so they can be re-manufactured or rebuilt and we then offer these parts on an exchange basis. An old part or assembly to be returned is called a core. As some people don't get around to returning a core unless inspired, in addition to the cost of the part itself an adequate value is charged for the cores return so there will be sufficient inspiration to return it. Most of the time the core charge is at least equal to the value of the remanufactured part and in some applications more if the core is difficult to replace. For example say a remanufactured assembly costs $1500. The core charge is also at least $1500.
As many cores are returned in varying degrees of condition, the amount of core value returned is contingent on condition. For example, if a steering rack is returned bent or damaged, there will be a diminished core value such as zero. A good core for us means a part than can be rebuilt again without anything extraordinary required that costs more that usual to do. Another example. Suppose a core is returned for credit and has parts that are damaged for whatever reason that cost more than what we sell the entire rebuilt assembly for. This core would have diminished value. Thus properly packing a valuable core for return is important and as the cars get older, these cores become ever more scarce. We want all cores to be returned so we can keep offering rebuilt parts and always prefer the return of a good core to the return of a bad one. When good cores are returned, examined and deemed rebuildable, then we refund credit for it.
Some cores must be returned and in our hands before a replacement is shipped out as the cores are made of unobtanium.
We actively buy entire new Rolls-Royce parts inventories and single new leftover parts!
Contact us by telephone 281.448.4739 with your cars VIN or chassis number and model so Scotty MacClymonds, our parts guy that has worked here since since the Silver Dawn of 1976 and whom possesses a considerable database of parts knowledge within his head and computers to do his job of helping owners with their parts requirements. Scotty has personally gone through the entire Bentley and Rolls-Royce main supply warehouse in England, box by box, bin by bin, on several occasions and has peered into almost every nook and cranny they allowed him to. Photos are not allowed in there but he has a good memory for car parts.
Our Deutsch clients need to send us their fahrgestellnummer or chassis number for quotes. None of us speak Deutsch but we know a few words like fahrgestellnummer.
For our Czech Republic clients here is information about the VIN translated by one of our CZ friends:
Pro klienty z České republiky: prosím, pošlete nám identifikační číslo vozidla (VINko) a seznam dílů, které potřebujete.
Na požádání Vám poskytneme kontakt na servis veteránů RR a Bentley v Praze
We speak Canadian and North Dakotan pretty well too eh?
To return to our main Rolls-Royce and Bentley section click here: RR and Bentley
We rebuild, supply parts and offer from our shelves many properly rebuilt assemblies .
There are as many definitions of "rebuilt" as there are people that intend to rebuild things. Some assemblies are "rebuilt" with the lowest possible cost as the primary goal. Sometimes there is no actual rebuilding done at all as no new parts were used and worn parts are refitted perhaps with a coating of paint or grease. It is a fact that a thing cannot be a well done rebuilt thing without replacing worn parts.
All of our rebuilt offerings are done to the highest possible standards and are not meant to compete with firms that offer a sort of cheapest possible rebuilding service. We are not particularly snotty or egotistical about these services it is that our goal is always to make the rebuilding of something as long lasting and as well done as we can so this philosophy requires the usage of new parts combined with experienced workmanship. If the desire is to purchase the best quality something available, here we are!
The Age of (re) Manufacturing
Some of our remanufactured and rebuilt assemblies are:
Corniche and Bentley Convertible power top (hood) cylinders or rams. Most of these are no longer supplied but we do rebuild them. We have also rebuilt many top pumps.
A chicken sings cluck cluck cluck.
A worn Rolls-Royce or Bentley axle can sing clunk clunk clunk.
These are new rear axle parts used to rebuild rear axle assemblies in 1966-1981 cars. Over the years, the rubber axle boot perishes and dirt gets into the axle grease and chews up the 60 roller bearings, the bearing races and sometimes the housing itself. This wear results in unseemly vibrations upon take off and a clunking noise will sometimes emanate from the axle. Clunk clunk clunk. You can prevent this by replacing the rubber boot if it has a hole or is rotten. Replacing the boot without ripping requires pressing out a large bearing race pin from the axle shaft. This is not easy to do but must be done. The pressing work can and sometimes does ruin the pin. We supply new pins, needle bearings, races and new Detroit pots ( the large machined casting in the right of the above photo) to make the axles tight. We also supply an uprated axle but it costs a lot more.
Good Shocks and Dampers don't need Pampers
Eventually all shocks leak hydraulic fluid and fail. We supply new front and rear shocks or dampers for all Rolls-Royce and Bentley cars from Silver Shadow to right now. We also stock all the bushings, seals, pipes, fittings, fluid and sundries required to fit shocks or dampers.
Electronic ignitions for Bentley and Rolls-Royce are simply pointless
We supply modern replacement electronic ignition kits for all Rolls-Royce and Bentley cars built from 1946-1985 to replace the contact sets or points. From 1976 onwards, all cars were fitted with various generations of electronic ignitions by the factory and we do supply replacements for these units. The new electronic ignitions that we provide fit entirely inside the cap, only have two wires and provide 40K volts of hot sparking. Points or contact sets do not and never did provide even spark to all the cylinders. Points start to wear as soon as the car is started. Upon occasion we hear negative comments about electronic ignition upgrades from a mechanic. The mechanic may like the old points systems. Scotty will ask, "So, what car do you drive every day?"
The usual answer is some sort of later model car or truck that was built with factory electronic ignition. Scotty then asks, "So, you drive a car with electronic ignition everyday and probably have for decades but prefer to install ignition points in clients cars that originally had points rather than upgrade the car to electronic ignition?"
"Can you explain the logic in that?"
Generally we then hear a begrudging," Ok, send the kit." grumble grumble grumble and that's ok.
The Matrix Revisited

Here are a pair of rebuilt Silver Cloud heater cores or matrixes ready to go. There are two in each car to keep passengers warm and the windshield clear on cold days. Rebuilt means they have new cores.
Rambo

This photo shows a rebuilt and re-bushed power steering assist ram fitted to all Silver Cloud and Bentley S series cars. These last a long time after a reseal. It also fits 1950's Silver Wraith and Phantom with power assist steering. We rebuild Silver Cloud 2,3 and Bentley S power assisted steering rams, steering boxes and pumps. Silver Cloud 1 power assist boxes are renowned for leaking. These boxes will still leak some fluid after resealing and this particular box is very difficult to work with. Thus we guarantee them to leak a little bit. On a visit to the factory a while back, we attempted to locate any old information they might still have about this steering box but nothing remains, no one there remembers and very few parts remain. We do stock all the seals and these will greatly lessen leaks but these boxes will never be dry unless all the fluid has leaked out.
We provide parts to rebuild the power steering boxes for pre-1977 Shadows.
Don't blow your Joint or WHAT KIND OF A JOINT IS THIS?
Yes, we supply joints of all kinds and sizes. A joint in Rolls-Royce parlance is a paper gasket and we supply them for engines, transmissions, intakes, differentials and just about anywhere a joint was meant to be.
Water pumps
We offer rebuilt Rolls-Royce water pumps and Bentley water pumps for cars from 1946 up. Regarding pumps that we do not have cores for, we can rebuild just about any vintage water pump. (All rebuilt parts have a core charge that is refundable upon return of a good core.)
We also offer new water pumps for certain applications
Brake and Hydraulic parts and services
We rebuild the convertible top or hood hydraulic assemblies, pumps and rams for Corniche convertibles.
Rolls-Royce and Bentley brake calipers (We supply all new stainless steel pistons as well as the rubber parts for rebuilding brake calipers)
Brake wheel cylinder rebuilding kits for Bentley MK6, Rolls-Royce Silver Dawn, Silver Cloud and Bentley S and Phantoms.
New master cylinders for 1950's Silver Wraith series
Sealing kits for RR363 brake pumps and later model green fluid brake pumps, new brake pumps for 1981 up cars and pump parts for every occasion!
We rebuild Rolls-Royce RR363 style brake accumulators and accumulator valves that also fit many Bentley cars. We rebuild a lot of these and it is amazing that the cars they came from stopped at all as the condition of many of them is truely horrible due to many factors we discuss in Section One.
Silver Shadow rear suspension leveling valves and parts for them. Yes, we rebuild these valves.
Silver Shadow rear suspension height control rams and parts for them. We rebuild them.
More:
Radiators (rebuilt with high efficiency copper cores for Silver Shadow, Corniche, Bentley T and earlier models) or factory exchange units if still available. If the plastic tank is cracked on your later model radiator, it has no core value and the cost sometimes doubles depending on VIN.
Electric shifter boxes for the transmissions ( We offer many parts to rebuild or repair these as well)
Carburetors -We stock a great many carburetor parts for cars built well into the 1940's.
Distributors (We rebuild them and offer parts and electronic ignitions for them)
Wiper motors ( We rebuild motors from the 1940's up and offer new motor assemblies for certain later model cars such as Bentley Azure.)
Engines (We offer some factory exchange units and rebuild and supply parts for most others)
Transmissions ( Silver Cloud, Bentley R Type and S series as well as early Shadows use automatic transmissions that fit nothing else and are a specialty here.
turbochargers
Silver Cloud kingpin related parts and assemblies
air pumps
all manner of air and fluid hoses
On and on we go.
If you are in need of parts just let us know what you want and please include the Vehicle Identification Number (VIN) or chassis number for pre-1980 cars.
Bentley parts Rolls-Royce Silver Cloud parts
Bentley Arnage Parts Rolls-Royce Silver Shadow parts
Bentley Azure parts Rolls-Royce Corniche parts
Bentley Turbo R parts Rolls-Royce Crewe built Phantom parts
Bentley Continental GT parts Rolls-Royce Silver Spur parts
Bentley Flying Spur Parts Rolls-Royce Silver Spirit parts
Bentley T parts Rolls-Royce Silver Dawn parts
Bentley S parts Rolls-Royce Flying Spur parts
Bentley Mulsanne parts Rolls-Royce Silver Wraith parts
Bentley Brookland parts

A Corniche Drophead coupe fitted with a Nardi steering wheel makes an already very fine car a bit more special.
Our E-mail spare parts contact us page
Our telephone number 281.448.4739
To return to Part One of our Rolls-Royce and Bentley section: RR and Bentley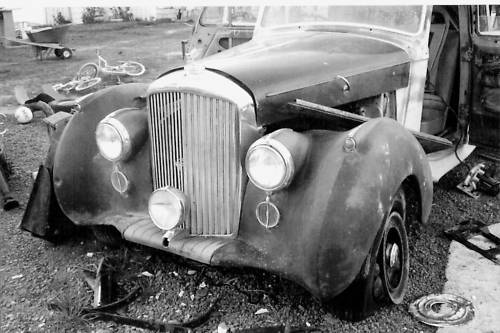 The owner of this forlorn Bentley lost that lov'in feel'in long ago.
We modified the lyrics so you can sing along to the melody of :
"You've Lost My Loving Feeler Gauge"
You turn off your lamps now when I polish your grille
And there's no tenderness like before in your leather trimmed inner sills
You're tryin' hard not to show it, baby
But baby, baby I know it
You've lost my lovin' feeler gauge
Whoa that lovin' feeler gauge
lost that lovin' feelin',
Now its gone, gone, so long
beep, beep, beep
Now there's no light in your lamps when I reach for your switch
Cars are starting to criticize the things that I do
It makes me just feel like crying, baby
'Cause baby, something beautiful is rust'in'
You've lost my lovin' feeler gauge'
Ohh that lovin'feeler gauge'
You've lost that lovin' feelin'
Now its gone, gone , gone, whoaohoh
beep, beep beep, beep beep, beep beep beep
Baby baby, I'd get out my wrenches and get down on my knees for you
If you would only let me drive, drive like you used to do yeah
We had a love, a love, a love you don't drive every day,
So don't, don't, don't, don't, let it accelerate away
Baby, baby, baby, baby, I beg you please, please, please
I need your love, I need your love, I need your love, I need your love, I need your love
Oh bring it on back, oh bring it on back, bring it on back, oh bring it on back
Bring back that lovin' feelin', o-o-oh that lovin' feelin'
Bring back my lovin' feeler gauge'
'Cause its gone, gone, gone
And I can't go on whoa whoa
Bring back that lovin' feeler gauge, o-o-oh that lovin' feeler gauge'
Bring back that lovin' feelin'
'Cause its gone, gone, gone
beep, beep, beep
The author of these lyrics is gone gone gone.
Sport and Classic Car Company
10525 Airline Drive
Houston, Texas 77037
USA
Our trusty landline telephone system was installed by Alexander Graham Bell on his day off. Since 1976 our telephone number is 281.448.4739
Or use e-mail to Contact us
Please send the VIN or chassis number and model of your car with parts requests. Thank you, thank u, thank ewe.