Homeland Rolls-Royce & Bentley Knowledge Rolls-Royce & Bentley Parts
Jaguar, MG, Triumph & Austin Healey Parts Restorations
Sporting Tires British Car Accessories Ignitions Repairs & Services
Dogs, cats, horses and animal love

Here are photos of FiFi, our extremely sociable shop cat. She wandered in one day looking for a handout, decided we were ok and stayed.
FiFi enjoys looking over Scotty's shoulder from time to time to make sure he is ordering enough cat food for the week.

In this photo, FiFi was less than a bit annoyed from waking up to a camera flashing in her face during her regular afternoon siesta in an empty parts bin.
http://www.caninecovers.com Here is a link to some things we offer for car interior protection so animals can be transported or hang out in your car and the cockpit won't be damaged during a road trip. If some of these items interest you and you want to order them, let us know. We highly discount these products to animal rescue groups to use for fundraisers.
We support many animal rescue groups and also foster and board dogs awaiting adoptions with organizations such as e-rescue-houston.org and www.scoutshonor.org These dedicated groups have fine dogs and cats of every breed, shape and size available for adoption. Why buy a dog when you can find wonderful animals at the animal shelters? There are lots of fine dogs that need a good home and they will love you when no one else cares.
Scotty's lovely, entertaining, highly intelligent and you never know what she will do next wife used to do a daily Pacifica radio program called "Adopt a Friend" that helped find homes for rescued dogs, cats, chickens, burros, horses and rabbits. Some of the the theme songs were, " Find Some Bunnies to Love" inspired by the Jefferson Airplane and "What's Up Pussycat?" sung by Tom Jones. The main theme song was Carol King's, "You've got a Friend" performed by a variety of artists.
Life is a lot more fun with animals and each of them have as distinct a personality as any human only without the dark side. We have many animals sharing our lives so we have lots of fun.
Did you know that rescue animals can be transported to most places in the USA as the animal rescue groups around the country support each other and have their ways? Check out www.huskyhaven.org or e-rescue-houston.org for information and pictures of Siberians and other dogs and cats that would like a nice home. They have really beautiful animals.

Isis the Princess of Love was but is no longer is available for adoption as we took her into our family. We are known as repetitive foster failures and don't feel a bit bad about it! When we picked her up from the Houston animal pound she had a bad lung infection that almost killed her. Isis spent six weeks at a kindly vet's clinic being nursed back to health. She is such a lovely dog with a sweet personality and the vet could not give up on her and we so so happy about that. If you are interested in adopting dogs like Isis or any animal, contact the animal rescue groups in your area or at any of the links above.
In response to requests for more photos of our animals (this is supposed to be a car web site you know) here are a few more:

This is our gorgeous male Siberian rescued from the streets. He had Sarcoptic mange, which is contagious, but we kept him away from our dogs while we treated him and now he has been part of our pack for over 12 years. He loves to talk, is extremely friendly to all dogs and will give kisses to those who want them.

Here are Aston and Isis in love. Both are neutered or spayed of course but they are star crossed lovers in every other sense. Aston walked off the streets and into our workshop one day as a young nine month old wandering pup. He was nodded off in a corner of our office floor when we found him. Aston had been on the street a while, had mange and was thin but otherwise ok. He is a fantastic fellow with a voice like Pavarotti. He enjoys singing his love songs to his girlfriends Isis and border collie Daimler. We enjoy his songs as well.

Here is Aston buried in toys. Obviously Aston is a very laid back dog.

Here are Aston, Isis and our brilliant, much smarter than honor students border collie Daimler Benz hanging out after a hard days work of hanging out. Daimler has a vocabulary greater than many humans it seems. Border collies are amazing. They know what you are thinking sometimes before you think about it, like when the exact time of dinner is.

Sweet Daimler waking up from a nap. Daimler is frustrated because she has no sheep to herd and has to make do with a Frisbee.

Here is little blond Tazzmo-mon our elderly gentleman cocker thinking about stuff. We found the young ( at the time) Tazz when we came to work one Monday long ago laying in the gardens in front of our workshop. A wanderer, he had been mauled and a bad infection had set in making him unable to walk along any further. The Tazzmo also had a puncture wound to his neck and we believe that he had decided to die in our gardens as the infection was very bad by that point. We brought him in, had a vet work him over and he was with us ever since. He was a true gift from the streets and a great friend.
Contact some animal rescue groups. Find yourself a great friend!
Hurricane Ike left many traumatized animals behind. Their homes were destroyed and their lives have been shattered. If you want to help an animal that really needs a friend, contact the animal rescue groups and Humane Societies on the Gulf Coast and you won't regret it.
As President Harry Truman sort of said," If you want loyal friends, adopt some dogs."


Here are a pair of little pups we rescued. The black one was hit by a car (that did not stop) right in front of our workshop. She had managed to crawl out of the street and into our gardens and that was as far as she could go. We named her Driving into Miss Daisy or Daisy for short. Daisy had some fractured bones but has recovered well with some weeks of care and isolation. The fine looking brown dog is her loyal sibling that would not leave her side when Daisy was hit by a car. We named him Bentley. We heard the cries of pain and found them starving, thirsty and needing a friend. Luck was with them once again as we took both to the vet for care.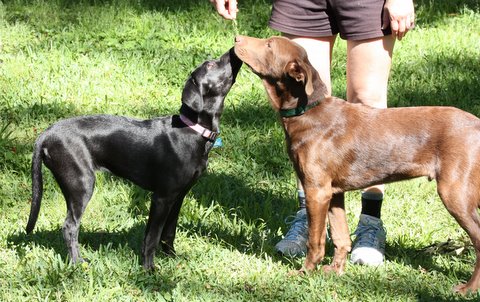 .
Daisy on the left was adopted by some cool people in San Francisco. Bentley grew into a beautiful dog. His naturally loyal character is growing and he loves to hang out and just be a happy dog. We think he must have been a combination of horse and dog as his legs are very long. Bentley has now been adopted by a lucky family in San Antonio. These two were a pair of lucky dogs that found great homes.
We have now taken in Kayla, a nice little stray street girl that we found with one of her toes almost ripped off. The toe bone was sticking out. She was a mess. We took her to the Animal Hospital in Houston where we had her toe cleaned up and she was spayed. She is responding well to good food, A/C and lots of playing with our dog pack. The toe is healed up and she looks great. Kayla has a sweet personality, a pretty face with nice markings, is not interested in cats and likes to hang out and play with other dogs. She is a great companion. If you are interested in adopting her, let us know. In these photos it's about 103 degrees F. outside and she is a little hot dog.

Our canine family hanging out.
We receive an amazing number of e-mails from fellow animal rescue people out there that find our website while searching for British car parts and it is good to know that you are doing what you do.

We adopted a beautiful now golden one eyed Cocker Spaniel that came to us from Gulf Coast Cocker Spaniel Rescue in Houston. Her story is that someone in a car saw another car driving down the road which slows but does not stop and the people inside the car throw a little dog out a window and into a ditch. They speed off. The amazed and nice person took charge, saved the dazed little girl and turned her over to the dog pound where the Cocker rescue group saved her from lethal injection. Little Farina was understandably a bit freaked out when we received her but we have been working with her for a while and now she is just fine. She has a sweet disposition and gets along great with our dog pack.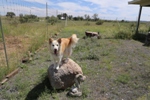 Here is another addition to our pack. Lola was a foster with Red Collar Rescue, but she is such a lovely dog we decided we wanted her to stay forever. Be sure to visit all of their great dogs and cats up for adoption at www.RedCollar.org.
A local Houston rescue group, Scout's Honor Rescue, is helping our dogs and cats not only by rescuing them from certain death at our pounds, but also helping them long-term by sponsoring free spay and neuters by using the SNAP (Spay/Neuter Assistance Program) mobile truck. If you want to help contact SHR at www.ScoutsHonor.org.
Another recently-formed rescue group is Rescued Pets Movement. This group is unique in that they pull dogs and cats from Houston's local pounds and transports them to fully vetted rescued groups in Colorado who have foster homes and sometimes adoptive homes waiting. You see Colorado has had mandatory spay/neuter laws for over two decades so they do not have the tremendous overflow of pets as in Texas. If you want to help by sponsoring an animal and literally save their life visit them at www.RescuedPetsMovement.org.
The people that do such evil deeds? Well, you can probably guess what we think about them. Shark food? No, we like sharks and bad people probably taste bad.
A good thing to do is to look around your area for animal rescue groups and:
1. Send them some money. They will spend it on food and shelter for animals they have rescued.
2. Volunteer at an animal rescue group and walk some nice dogs, give them some love and let them know that life will get better.
There is a new HBO movie series called One Nation Under Dog. Check it out!
Animal Rescue Here are graphic photos of dogs that had a hard life, were rescued and we are helping them by donating money for their care at a local animal hospital. These are not pretty pictures but they are real.
Hi Animal Lovers,
We like all animals and are quite fond of dogs, cats, donkeys and horses.
2If you like horses, then you should visit Habitat for Horses – www.HabitatforHorses.org . HfH is really struggling due to the high cost of hay, drought and adopters returning horses due to the economy. HfH has a very informative web site. Of course there are many other great horse rescues around the country such a Gentle Giant Draft Horse Rescue in Maryland who rescues draft horses from slaughter and abuse – www.GentleGiantsDraftHorseRescue.org.
If you like horses and want to save the USA's wild mustangs then you should visit http://wildhorsepreservation.org/. This group is fighting to keep our wild horses and burros wild as the BLM is on a mission to remove all of them eventually from our public lands. If you like our wild horses and burros then you will enjoy this web site.
There are many anti-slaughter web-sties that need donations for their work, but they are often not for the weak or those who don't want to know what really happens to our horses including race horses once they lose so I will let you find them yourselves if you are interested.
If you know someone who likes donkeys (the same as burros) then try Peaceful Valley Donkey Rescue. I have become active with this group lately as Texas has now become the largest donkey dumping ground in the country. The state of Texas likes to shoot them on sight in Big Bend so PVDA is working around the clock trying to save them. They have an interesting web site and you probably would have to inform the recipient of your gift yourself. Donkeys are apparently great animals. This group is based in California, but now have a place in Texas. They just bought a defunct dairy farm near San Angelo where they will soon be locating their Texas donkeys. http://donkeyrescue.donordrive.com/index.cfm?fuseaction=cms.home
5 A few other great groups where one can adopt or sponsor one of their animals are below:
· Best Friends in Utah: www.BestFriends.org
· Society for Animal Rescue and Adoption (SARA) is located in Seguin and will one day move near Marfa and the owner is a good friend of mine. http://www.sarasanctuary.org/newsite/index.php
Below are some national/international organizations that I like a lot and allow one to adopt an endangered animal as a gift. These are really great for kids as they get a stuffed animal and fact sheet about the animal so it is fun and educational.
· Defenders of Wildlife – https://secure.defenders.org/site/SPageServer?pagename=wagc_homepage&s_src=3WEW1200HXXXX&s_subsrc=112811_web_hp1 They work very hard for wolves and besides just adopting a wolf they have lots of other wolf saving gifts such as tracking collars, turbofladry, etc. https://secure.defenders.org/site/SPageServer?pagename=wagc_wolfsaving
· Oceana is a group that focuses on marine mammals -- https://store.oceana.org/?akid=2231.646508.lCUUzk&rd=1&t=3&utm_campaign=adoption&utm_medium=mailing&utm_source=email
· If you have someone whose interests are more focused on the environment try National Resources Defense Council (NRDC) at www.NRDC.org . Their gift sections can be found at:
https://www.nrdcgreengifts.org/gifts/?s_src=sem_google_NRDC%20Brand_NRDC%20Brand_NRDC__p__7880853040&utm_source=google&utm_medium=cpc&utm_term=NRDC&utm_campaign=NRDC%20Brand
More places to get gifts and benefit an animal activist group
· The Animal Legal Defense Fund has holiday cards if you are looking for some and your purchase goes to help animals. -- http://www.aldf.org/article.php?id=1876 or http://www.cafepress.com/aldf
· The Texas Humane Legislation Network (THLN) is a group that works to change the laws about animal abuse, puppy mills, horse slaughter. I don't think they have gifts, but I have given to them in someone else's name and then sent a card myself.
· If you know someone who is into Grey Hounds (for pets not racing) or you like them you should visit Grey2K at http://www.grey2kusa.org/shop/index.html .
8. For cat lovers
· Alley Cat Allies. However, you should not depend on them to send the newsletter "gift" to your recipient as it has never worked for me, but they do great work across the nation for feral cats. http://www.alleycat.org/
· Tomball SOS is a local group, but again you would have to inform the recipient of your gift yourself -- http://www.tomballsos.org/
Thanks, try something different and have fun giving!
An Emotional Rescue
We have another chapter about animal rescue with some fine dogs that are available for adoption and are in contact with a great many rescue groups and will be happy to refer you to them if you want to adopt. Check the Home page.
As we have a great many clients that are involved with rescuing animals or that have rescue animals, this page is for those that might be thinking about such a thing. We also have a section of animals we have rescued on our home page.
This chapter is for the purpose of educating readers about what can happen to animals that had the misfortune to fall into the wrong hands. Following will be photos of abused or neglected animals that we assist or have assisted animal rescue groups save and bring back to good health so they can be adopted. These animals are not pretty sights when first rescued and are not for those who may be squeamish about seeing the unpleasant realities that some animals find themselves in through no fault of their own. We believe that all animals deserve a nice life and encourage people to seek out rescue animals to adopt rather than go to breeders or pet shops for puppies or kittens that quickly grow up. There are people adopt a puppy or kitten and when the animal reaches adulthood, they dump it it and find another kitten or puppy. Other people enjoy beating or torturing animals because they are psychopaths and enjoy hurting animals and then many times go on to hurt people for kicks. Other people grew up to be Nazi Gestapo torturers so this stuff happens and it is a sad reality.
We have now and have had many rescue animals that were abused and they can be and are great friends. In most every community there are local animal shelters, rescue groups and volunteers that go about saving animals that need good homes.
Find one, call them and offer to foster an animal or volunteer to help some way. It is simply a great thing to do.
Concerning the dog featured below, the last Christmas holidays, Scotty and his wife decided to sponsor a dog that was found in the worst condition at the local animal control pound instead of buying each other un-needed stuff. When we picked up this dog to take her to the vet, we found she was in much worse condition than the following photo taken by animal control could show.
Here is the story of Shelby the German Shepherd, a lucky dog

This photo is of Shelby (we named her). As you can see, this dog was in beyond miserable physical condition and was starved and abused for a very long time. She was a real mess when found.
Here are some photos taken a few days after we and Scout's Honor Rescue pulled her from the Harris County pound.

At this point, she has had several baths and has been receiving treatment, food and water. her spirits are improving and she has been able to eat solid food. As you can see, she has lost a great deal of her hair due to malnutrition or no nutrition. This young German Shepard mix had severe wounds and various skin infections.



Here is Shelby after two weeks of care by a great Houston animal clinic. Feeling much better after some steady food and water as well as medicines and a whole lotta love, her eyes are now much brighter and alert. A few more weeks and she should be ready to go to a foster home. As she feels steadily better, her personality is emerging and it turns out that in spite of the unfortunate circumstances she was found in, she is a sweet little dog, about two years old.

Here is Shelby with Dr. Sealy from VERGI pet hospital about to leave intensive care and go to a volunteer foster home for further recovery. Her hair is growing back, she is gaining weight and although still in a very delicate condition as a result of the attentive care she received, she is a making a spectacular return to good health.

Here is Shelby the wonder dog today with her beautiful hair grown back. She made an amazing recovery, is a great lucky dog and a genuine survivor that has found a wonderful home with four more white German Shepard's and two very nice humans.

Here is a poster Shelby's new mom made. Can you pick out Shelby?
If you would like to contribute to the care of other animals in similar situations here are just few of our local rescues help the animals in our community.
Scout's Honor Rescue: www.ScoutsHonor.org
Red Collar Rescue: www.RedCollar.org
Texas Sled Dog Rescue: www.TexasSledDogRescue.org
Texas Husky Rescue: www.TexasHuskyRescue.org
Husky Haven: www.HuskyHaven.org
E-Rescue: www.E-Rescue-Houston.org
Most of these groups above have great FaceBook pages. You can see their wonderful dogs, great stories and pictures, helpful hints, ways to help, dogs needing your help and lots of fun things to do with the groups and your dogs. Try volunteering and you just might find you like it and make some great new friends of thw two and four legged variety.