Rolls-Royce & Bentley Knowledge Rolls-Royce & Bentley Spare Parts
Jaguar, MG, Triumph & Austin Healey, British car spare parts Restorations
British car Accessories Repairs & Services
Cars for Sale Rare Things Electronic Ignitions
Dogs, Cats, Horses and Donkey rescue Antique Electric Fans
Read all about us Contact us
Sport and Classic Car Company
&
Billions of Car Parts Company
10525 Airline Drive Houston, Texas 77037
On a Car Trek since 1976
Going where no website has gone before!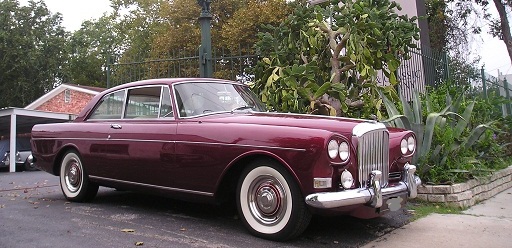 Rolls-Royce and Bentley Parts & rebuilding specialists since 1976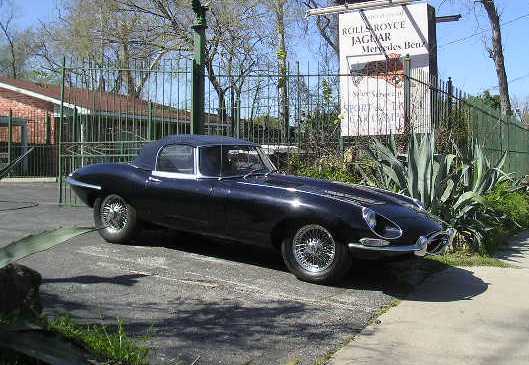 Classic Jaguar restoration, parts and services since 1976
All long and winding roads lead to our doors
The Hub of the British car universe
Where cars become stars
Primum non nocere
To talk something through, our telephone number is: 281.448.4739
or contact us by e-mail.
2022 times of operation: 9:00 am to 4:30 pm Central Standard Time or thereabouts Monday through Friday except for holidays, hurricanes, pandemical situations, horrible winter storms or other circumstances beyond our control.
Please allow us to introduce ourselves
as vintage men of tools and taste
We usually have a lot to say about cars and about parts of cars because we have been rebuilding and supplying parts for these cars for most of our lives. We don't mince words as we like them whole and plentiful thus brevity is not overly abundant on our website and run on sentences much like the number of nuts and bolts on Rolls-Royce or Bentley cars are absolutely rampant. Our website is absolutely not limited to a few words like and continues to expand much like a waistline over the years as we continually experience automotive works of interest and write about them. If you are too multitasked to read more than a few words then you might like to look at the pictures.
Our website seems to be the largest dedicated website about these cars that exists and offers a great deal of useful information about these cars. As every picture tells a story we have many stories and photographs of cars and photographs of parts of cars. We even have photographs of photographs of cars. Every photo can be expanded for better viewing by clicking on them. Woven though our website is storytelling about British cars with various ways to avoid or solve many car related problems. The revelation and dissection of certain automotive truths and untruths are revealed.
For the last 42,000 years or so we have been dedicated to supplying spare parts and offering many restorative and rebuilding services for Rolls-Royce, Bentley, Jaguar, MG, Triumph, Austin Healey, Bristol, Morgan and Morris and many other British cars.
We sometimes supply parts and work with vintage Mercedes-Benz cars from the 1950's, 1960's, 1970's and 1980's.
Although the supply of new parts is a major aspect of what we do, we are about much more as we actually repair and rebuild these cars and various assemblies from them. Sometimes our parts fellow does restoration and rebuilding work between phone calls so might be rebuilding something intricate with all four of his hands so please leave a message on our recorder if the phone is not speedily answered.
We do not track, spy, wiretap or inflict advertising cookies upon visitors to our website.
New articles, revisions and photos are often added and soon this introduction will no longer be very short so it ends with the little period right over there .
Table of Contents or What's going on?
Rolls-Royce and Bentley cars restoration and services
Part One
Our Bentley and Rolls-Royce car parts and restoration departments are renowned throughout most of the Milky Way! This popular chapter expounds about specific Rolls-Royce and Bentley repairs with servicing information that gets right into the restoration and repair of various systems and includes storytelling lessons if you will about our experiences working with these great cars. Knowledge is power as they say so have some on us.
Spare Parts for Bentley and Rolls-Royce cars
Part Two
Henceforth and forevermore unless forever takes too long or until we do something different all parts listings with photos and descriptions will be in this chapter although Part One also has considerable parts related information that will probably stay there unless we get editorially vigorous. We offer over 60,000 new factory original Bentley and Rolls-Royce parts and when the factory no longer supplies something, may well offer alternatives as we are always problem solving. Just a few available parts are listed on our website. It is best to contact us directly about what you want.
Bentley Continental GT parts Rolls-Royce Silver Cloud parts
Bentley Arnage Parts Rolls-Royce Silver Shadow parts
Bentley Azure parts Rolls-Royce Corniche parts
Bentley Turbo R parts Rolls-Royce Crewe built Phantom parts
Bentley Eight parts Rolls-Royce Goodwood built Phantom Parts
Bentley Continental parts Rolls-Royce Silver Spur parts
Bentley Flying Spur Parts Rolls-Royce Silver Spirit parts
Bentley T parts Rolls-Royce Silver Dawn parts
Bentley S parts Rolls-Royce Flying Spur parts
Bentley Mulsanne parts Rolls-Royce Silver Wraith parts
Bentley Brooklands parts Rolls-Royce Hi Ho Silver parts
Bentley Bentayga parts Rolls-Royce Silver Seraph parts
Rolls-Royce Wraith Parts
Rolls Royce Ghost Parts
Rolls-Royce Drophead Parts
British Automobile Spare Parts
We offer a generally gigantic as well as moderately massive yet absolutely supercalifragilisticexpialidocious number of new and renovated spare parts for British cars other than Rolls-Royce and Bentley such as vintage Jaguar E-Type and the XK, MK and XJ series. We supply Austin Healey 3000, 100/6 and Sprite parts as well as for MG cars like the MGTD and MGTF, MGA and MG Midget, MGB and MGB-GT, MGC, MG Magnette and many Triumph models such as TR3 and Herald, GT-6, TR4, TR4A, TR-250, TR6, Stag and Spitfire so you never know what we can provide unless you ask. Some parts do require an operational time machine to locate such as a request for a perfect original (made in 1961 by original card carrying Jaguar elves) interior for a 1961 Jaguar E-Type Roadster or for used but need to be perfect plastic tail lamp lenses for a 50+ year old Rolls-Royce. These sort of things we still supply new.
Very Short Stories and Tall Tales
Photos and stories about vintage Jaguar, MG, Triumph, Jensen Healey, Mercedes-Benz and Austin Healey restorations we have done or are doing so as to provide the gentle reader a notion of what such work involves.
They didn't want it good, they wanted it Wednesday. (Thanks Robert H.)
We repair and rebuild just about anything that is worth doing a good job on as long as the assembly is not available new or is available new yet may be costly enough to justify the time and materials required to do a proper rebuild. Our capabilities are quite extensive and this chapter contains many interesting examples of vintage Jaguar, MG, Triumph, Jensen Healey, Austin Healey and more repair actions. We also show some interestingly botched repair jobs sent to us for reverse botching.
Featuring some but by no means all of the rare, uncommon and unusual parts or automotive objects of desire that we have available.
Something Wicked This Way Drives
This section also features interesting cars for sale that are not wicked beasts. You should buy them before someone else does.
There is information on how to avoid buying a "Formerly Known as a Car". These are cars that have become piles of automotive distress through no fault of their own. Some cars have been falsified using various tricks to enable them to masquerade as nice cars for just long enough to sell them to unsuspecting buyers. We have seen much of this sort of thing over the years.
At this time we are donating most or all of the proceeds from used parts sales to animal rescue groups. Our management supports many animal rescue groups like Habitat for Horses, Peaceful Valley Donkey Rescue, Texas Sled Dog Rescue and Texas Husky Rescue as well as Houston's wild animal santuary. We foster dogs, cats and other rescue animals on a regular basis. Lots of great cars and machines were named after animals and we have many clients that like to ride around with their dogs and cats. We think that calling a car a dog is a great compliment to the car! If cars were as reliable and trustworthy as dogs, we would be out of business! No worries there though.
At the top of this page and every page are icon keys that when clicked will take you to specialized areas about cars, parts, restorations and explanations about the many services and car stuff we offer. Our website has been growing and evolving just about since the internet went public so there is quite a bit of specific knowledge tucked away in the nooks of the site not to be found in books that may help a person avoid getting caught by the hooks of the crooks.
Bentley & Rolls-Royce . (vintage Jaguar) MG . Triumph . Austin Healey. Morgan . Austin Healey . Aston Martin . Jensen . Morris . Jensen Healey . Bristol . Riley. Daimler.
We also provide parts for Mercedes Benz and Maserati cars.
We wish for everyone to be healthy, wise and in these challenging times, employed or otherwise fortunate enough to own and drive fine vintage (or potentially fine) cars as well as their daily drivers (vintage cars of the future).
We can possibly be of assistance if the car is not listed in the above Box o'Cars. You just never know until you ask now do you?
We like e-mails as they create a record we can work from as our mental circuits can be forgetful or over loaded at times. Please keep in mind that most days we receive lots of genuine e-mail enquiries along with massive mountains of junk and spam emails. For long lists of parts, complex requests or any sort of spare parts request, an e-mail with year, model and VIN really work best. We do not do a web shopping cart as we still like to actually converse with our clients and we have found that many owners or shops are unaware of enough specifics to order the correct parts so we like to make sure that you get what you need. This is what we do. The rest of the world may be automating humans out of work but we are not robots. Maybe later we will turn into robots but not today. Maybe tomorrow.
Many car part requests require accurate research through our vintage paper parts books, computer data bases and vintage memories so please be patient as some of the vintage parts info is not on computer data bases and is in our collection of ancient and delicate parts tomes. Don't forget to include the year, model and VIN or chassis number if possible for cars you are working with as this information greatly speeds up the process. In the subject line of your e-mail, please type the make of your car so we will see the email is not another Spam Scam. If you do not receive an answer in a reasonable timeframe your enquiry may have been lost in our spam filter or who know where it went so don't give up. Send it again! The internet is not perfect and neither are we but we still want to help your car attain the degree of perfection that you want if we can.
Very few firms still possess the direct experience we have earned from working with these cars for such a long time because knowledgable people have retired or have moved to a different dimension. If you are not an enthusiast, you might just blossom into one as you read our stuff as these cars are amongst the most fun cars to drive that were ever built. Every vintage car is unique and has it's own driving and esthetic characteristics because they were built by the inventive hands of man and woman.
Sometimes we receive phone calls from car owners that have been texting us and wonder why there is no response. This is because our business phone is a land line. We don't use Blackberries or Apples either although we do like to eat them when fresh and in season. We do use telephones and e-mail as well as smoke signals and dinosaur talk. We leave tweets for the birds because they are better at it and obviously we are enthusiastic users of properli speled werds. No Facebook or social networking promotional stuff either although maybe someday maybe we might get around to it. We do e-mail pictures of our painted body parts but they are parts of cars. All of our sometimes prolific writings and photos about cars will be found herein.
We don't know why this is so, but readers quite often tell us that they get all excited about their cars again after reading our car tales for a time and we thank our reader clients that drop us a note from time to time telling us how they enjoy reading our automotive meanderings yet we do suggest that no reading be done whilst driving. Stay safe, stay healthy and have a great time with a car.

For information about proper motorcars like Rolls-Royce and Bentley parts and services, please go to our Rolls-Royce and Bentley sections.
Cars with a second act left in them
Click the blue hyperlink and have a gaze at interesting cars we have for sale.
The cars that we offer for sale all have varying degrees of experience because we don't sell new cars. In fact only a few of the original manufacturers of the cars we work on these days are still in the business of building cars.
Sometimes we offer restored and finished cars and good street cars. Unfinished yet worthy projects from mild to fairly wild are available for consideration now. We also offer intensive pre-sale inspections on cars being considered for purchase from any seller. We have car projects for those that enjoy mechanical challenges to blow off steam or just because they enjoy rebuilding cars.
Way Down Under
Once upon a time, we had some brave Aussies come to visit from Down Under. They had noticed some cars we had for sale on our website and traveled from Oz to here to purchase an Austin Healey 3000 parts car that had been rotting into the ground for some 25 years in the back of our property. The car split in two when they moved it as the frame had rusted away. They wanted this particular car as both of these blokes had a desire for a great challenge that would take them years to do. Australians are not lightweights. They stuffed both halves of the car into a 20 ft. container along with a much nicer Austin Healey 100/6 and a lot of spare parts and back to Australia they went. From time to time they send us photos of the progress and of the complete new frame they hand built. We learned to have a lot of respect for the wild men from Down Under.
Our inner pages illustrate some of the utterly vast array of parts and services we offer with many photos of typical works in progress while muttering about car stuff so have fun exploring our site as it has many pathways and destinations. If any questions arise, just ask!

Working with and supplying parts for great British sport cars such as this cool Austin Healey 100/6, MGA Coupes and many cars that were manufactured in England are what we do. The director of our company has owned an Austin Healey 3000 since 1972 and had the great pleasure of enjoying a luncheon with Donald Healey before, not after, Don passed away. The Donald inscribed a book he wrote to Scotty telling him, "Thanks for maintaining the breed and your blue 3000 is my favourite colour. " Of course he told all the other Healey owners that were also attending the event that the color of their cars were also his favorites and why not?
Fear the Driving Dead
Sometimes we come across a car that is or might ought to be dead due to major structural rust or intense damage but the car refuses to go gently into the scrap pile because of continual stays of execution from a successsion of owners and their good intentions. Perhaps in a moment of wild abandon an owner paid too much for a "Formerly Known as a Car" and hence despite large outlays of funds expended for unsuccessful efforts the owner refuses to acknowledge that the car is doomed and their investment is kaput. Sometimes frustrated owners will place such a car in storage for many years. Sometimes the car is eventually sold to another owner and the cycle of doom begins once again. This depressing scenario can be avoided though. Evaluating a vintage car takes an expert eye that is emotionally undetached and because considerable experience and time taken to learn about a cars true condition is required as many bad things can be well hidden or may be hiding in plain sight waiting to consume an unwary wallet.
Resurrection
Frequently we bring cars back from the dead or from long deep sleeps. The ancient Egyptians carefully preserved their dead for an afterlife and were really into their mummies in those days. Maybe the ancient Egyptians should have built cars instead of mummies.
Many people today usually don't do much to preserve cars they own that sometimes are hanging around like a mummy. The old car will be parked in a barn, storage shed or left outside and forgotten until someone with an eye for hidden dusty or rusty beauty comes along and decides to rescue the car. Many owners are reluctant to let their cars go even though the car may be in dire straights. They like their car but just got busy with non- car stuff like families, work and worthy causes. Our lives pass through many phases and levels of responsibility so sometimes favorite cars are stowed until a more "free" or financially advantageous time arrives and owners and their favorite cars can play together once again.
Our unreal world experience has without a doubt greatly enhanced many car owners driving pleasure and this is what these cars are all about. We are skilled in the ways of fine craftsmanship and possess considerable product and technical knowledge learned from working upon and studying mechanical and electronic designs used on these cars for many years as well as successfully and continuously completing difficult assignments every day of our five day work week. On a daily basis we work with cars that have been long stowed as the emotional appeal of a car can run deep and owners will hang on to them until they find someone that they trust to fix the car properly.
We perform bench work (assemblies that can be done on a bench, please don't send us your broken benches) for mechanically minded enthusiasts and shops that have chosen to have us perform critical and safety related aspects of their restoration projects as well as perform all manner of services. Successful workmanship on fine cars or anything else requires highly refined skills earned from many years of learning experiences. In many circumstances, automotive shops and owners can move the required work forward by sending us critical or complex components for proper and speedy as possible rebuilding or repairs. We always work with "deliberate haste" to transform leaking or no longer operational assemblies into nicely working condition.

A scarce 1961 MGA Coupe heads out!
*************************
We have a traditional Scotsman's penchant for wasting nothing because nothing is something that should never be wasted whether you have a little something or a lot of nothing.
Carved into an old tree on the Island of Skye around 1668 by Skye King MacClymonds XXI
**************************

Part of our model car parking lot in the reception area which is sort of a museum of sorts as our owner has collected a lot of car related stuff over the years. As a matter of interest for potential visitors our restoration workshop and our parts division stay very busy. The nature of our business is of course very interesting to enthusiasts wanting to 'wander" about. However as our primary focus is concentrating on doing good works and meeting obligations to our clients, we are no longer able to give personal tours of the workshops so that we can continue to perform automotive services as well as make our clients restoration dreams come true.
We have done this sort of work for for astute, sensible, intelligent, thoughtful, fun loving and sharp dressed clients for 45 years or sometimes more than 1046 years in Houston Texas, a place famous for mosquitoes that are so large and ill mannered the buzzing bugs are often mistaken for small aircraft or drones.
We have a relationship with a world of owners of cars and shops that work with the cars in Dubai, Egypt, Mexico, Brazil, Italy, Guatemala, Cuba, Lebanon, Austria, New England, Olde England, New Zealand, Puerto Rico, Austria, Norway, Quebec, Ecuador, Spain, Russia, France, Canary Islands, Japan, El Salvador, Ghana, Canary Islands, Saudi Arabia, Bolivia, Scotland, Suriname, The Kingdom of Bahrain, Slovakia, the Dominican Republic, Brazil, Lebanon, Zambia, Bermuda, Abu Dhabi, South Africa, Israel, Venezuela, Switzerland, Puerto Rico, Chili, Argentina, Japan, Holland, Hong Kong, the Czech Republic, Norway, Ireland, Germany, Australia, American Samoa, Argentina, Wales, Turks and Caicos islands, the Philippines, Columbia, every state in the USA, just about every province in Canada or just about anywhere in the developed third galaxy have found that purchasing parts from us gains a car owner much more than just parts.
We also supply parts for vintage Mercedes Benz 6.3 litre M-100 300SEL and the 3.5 300SEL, 280SEL, 250C and classically styled 109SL, 230SL, 250SL, 280SL, 350SL, 450SL, 500SL and 560SL cars. We have restored quite a few SL's. Check our Restoration section for photos.
Our highly regarded and famous throughout the entire Milky Way Repair Department possess many vintage factory special tools and diagnostic equipment for Rolls-Royce and Bentley cars as well as for vintage Jaguar, vintage Mercedes Benz and some others as you can't fix the cars without a lot of suffering unless you have the right stuff. We offer extensive high performance Weber and Dellorto carburetor tuning and rebuilding services. Our well known except for those yet to know us spare Parts Department is able to supply a massive (billions and billions) array of Rolls-Royce parts, Bentley parts, Jaguar parts, MG parts, Triumph parts, Mercedes Benz parts, Austin Healey parts and accessories for many such cars. .
The Bee's Knees of Electronic Ignitions

We are a world wide distributor for Pertronix Electronic Ignitions and performance products that replace antique and unreliable point style ignitions with tiny (inside the distributor where it cannot be seen) state of the art electronic ignitions available in both positive and negative grounds for MG, Triumph, Jaguar, Rolls-Royce Silver Cloud, many Bentley cars, Mercedes Benz 3006.3, 3.5, 280 and just about any car or machine that uses ignition points.
We fit these ignitions to just about every points style car that comes in the shop. Owners appreciate the vastly increased reliability and smooth performance. Own a forklift or a pump of some sort that uses points? We can probably help. These ignitions and hot 40K and 45K volt coils have wide applications for farm machinery, fork lifts and industrial engines as well as cars and boats of all sorts. A link to the full catalog with applications and technical information is included on our Pertronix information page.
Sir William Lyons, the founder of Jaguar Cars, once proclaimed, "The car is the closest thing we will ever create to something that is alive." The great old designer passed away in 1985 and obviously never saw a lava lamp.
The Sum of all Fears
We don't think a car is supposed to drive like a heap of junk because the car is vintage or just an older model. We reserve such judgments for cars that actually have devolved into a heap o' junk based on many factors other than year model. Great cars have been built for well over a hundred years and all special interest cars have their unique charms.
Quality parts and a shop such as ours that seeks to properly care for vehicles and owners automotive requirements with a long term view are a natural combination. Worn out parts and rotten tires will cause any car to drive like a wallowy old lump no matter the age of the vehicle. Who willingly wants to drive a car that steers like the Titanic or rides like a wheel barrow?
An interesting human phenomena is that many owner/drivers simply do not know or perhaps no longer remember what their car is or was supposed to drive like.
Suppose the car in question is considerably older than the present owner? This is happening more and more as time goes by. Frequently we are working on cars for multipule generations as the car gets passed down the line. The car might be the only similar car an owner has recent and intimate experience driving or they might have been in the car as a child with grand daddy or grand mammy behind the wheel or perhaps there is no tangible personal reference experience. In other situations whereby an owner may have owned a car for a long while the car and the owner are slowly mellowing together through the years as old friends will do and normal wear and tear in the suspension or steering or slow deterioration in the cars performance can be subtle but certain.
Typically, owners may buy a car and just assume it is what it is instead of it is what it was or it was what it is now. ( Got that? Now repeat it 129 times as fast as you can.)
We authoritatively assert that a car can be whatever a quality shop or person builds it into by properly sorting out known ailments, adding effective yet subtle enhancements and working out potential problems before they occur. Our goal of course is to return a car to an owner in such a condition that the car will perform well for a long time without problems. We believe in educating our clients about their car and what the possibilities can be. If you don't know, how can you know better?
A question we often hear is, " Why should I spend all that money fixing my trusty and much beloved old car that has given me countless hours of fun when I probably cannot sell it for a small fortune or even for the restoration cost?"
Well, what worthy objects of desire are worth what was paid right after purchase? Is the immediate goal of restoring a car to sell it? Sometimes this is the plan and sometimes the point is to be able to enjoy driving the car because you want to. These days lots of things, everything, loses value after purchase, yes? A new car loses lots of value when first driven from the car lot. Most products have greatly diminished monetary value after purchase and are difficult to sell for much. We buy these products simply to do the job they were purchased for. In stark contrast are certain cars in good condition that deliver continuous pleasure for protracted periods and still maintain considerable value that in many cases hold steady or rise. The enjoyment of owning and driving a fun car cannot be accurately nor quantitatively measured with traditional accounting methods. Having a great time driving a cool Austin Healey or Bentley is just that. of all the things in life worth paying for, food, health, shelter and fun are surely to be ranked amongst the highest of priorities. Money can't buy you love but it sure can buy you a fine car.
Our firms are not affiliated with other companies that may or may not have similar names or may otherwise be engaged in any aspect of the automotive business. Feel free to use any catalog, parts book, website or whatever to order parts from us or just tell us what you want and we can work up quotes and availability. We work with factory part numbers or vague descriptions for that matter. We are doing our small bit to save trees, stamps, ink and lessen trash by not publishing paper catalogs.
Click here to go to our cars other than Rolls-Royce and Bentley spare parts page or go back to the top to check out our various chapters about cars.
A rhyme not worth a dime is a crime ( on a good day)
You don't have to be a snoot
or an old coot
to have a hoot
driving a PMC
MG
or Jag
yet some loot
unspent
for spares
and repairs
can make a commute
go kaput
attributed to Robert Frost MacClymonds IX
You could say that if websites had lips then our website surely must have a stiff upper lip.
And now for something completely different...
---
We are not into selfies and are much too shy to post our time sculpted faces all over the internet. So instead.

Here are photos of FiFi, our extremely sociable shop cat. She wandered in one day looking for a handout, decided we were ok and stayed.
FiFi enjoys looking over Scotty's shoulder from time to time to make sure he is ordering enough cat food for the week.

In this photo, FiFi was less than a bit annoyed from waking up to a camera flashing in her face during her regular afternoon siesta in an empty parts bin.
http://www.caninecovers.com Here is a link to some things we offer for car interior protection so animals can be transported or hang out in your car and the cockpit won't be damaged during a road trip. If some of these items interest you and you want to order them, let us know. We highly discount these products to animal rescue groups to use for fundraisers.
We support many animal rescue groups and also foster and board dogs awaiting adoptions with organizations such as e-rescue-houston.org and www.scoutshonor.org These dedicated groups have fine dogs and cats of every breed, shape and size available for adoption. Why buy a dog when you can find wonderful animals at the animal shelters? There are lots of fine dogs that need a good home and they will love you when no one else cares.
Scotty's lovely, entertaining, highly intelligent and you never know what she will do next wife used to do a daily Pacifica radio program called "Adopt a Friend" that helped find homes for rescued dogs, cats, chickens, burros, horses and rabbits. Some of the the theme songs were, " Find Some Bunnies to Love" inspired by the Jefferson Airplane and "What's Up Pussycat?" sung by Tom Jones. The main theme song was Carol King's, "You've got a Friend" performed by a variety of artists.
Life is a lot more fun with animals and each of them have as distinct a personality as any human only without the dark side. We have many animals sharing our lives so we have lots of fun.
Did you know that rescue animals can be transported to most places in the USA as the animal rescue groups around the country support each other and have their ways? Check out e-rescue-houston.org for information and pictures of Siberians and other dogs and cats that would like a nice home. They have very beautiful animals.

Isis the Princess of Love is no longer is available for adoption as we took her into our family. We are known as repetitive foster failures and don't feel a bit bad about it! When we picked her up from the Houston animal pound she had a bad lung infection that almost killed her. Isis spent six weeks at a kindly vet's clinic being nursed back to health. She is such a lovely dog with a sweet personality and the vet could not give up on her and we so so happy about that. If you are interested in adopting dogs like Isis or any animal, contact the animal rescue groups in your area or at any of the links above.
In response to requests for more photos of our animals (this is supposed to be a car web site you know) here are a few more:

This is our gorgeous male Siberian Aston who we rescued from the streets. He had Sarcoptic mange, which is contagious, but we kept him away from our dogs while we treated him and now he has been part of our pack for over 9 years. He loves to talk, is extremely friendly to all dogs and will give kisses to those who want them.

Here are Aston and Isis in love. Both are neutered or spayed of course but they are star crossed lovers in every other sense. Aston walked off the streets and into our workshop one day as a young nine month old wandering pup. He was nodded off in a corner of our office floor when we found him. Aston had been on the street a while, had mange and was thin but otherwise ok. He is a fantastic fellow with a voice like Pavarotti. He enjoys singing his love songs to his girlfriends Isis and border collie Daimler. We enjoy his songs as well.

Here is Aston buried in toys. Obviously Aston is a very laid back dog.

Here are Aston, Isis and our brilliant, much smarter than honor students border collie Daimler Benz hanging out after a hard days work of hanging out. Daimler has a vocabulary greater than many humans it seems. Border collies are amazing. They know what you are thinking sometimes before you think about it, like when the exact time of dinner is.

Sweet Daimler waking up from a nap. Daimler is frustrated because she has no sheep to herd and has to make do with a Frisbee.

Here is little blond Tazzmo-mon our elderly gentleman cocker thinking about stuff. We found the young ( at the time) Tazz when we came to work one Monday long ago laying in the gardens in front of our workshop. A wanderer, he had been mauled and a bad infection had set in making him unable to walk along any further. The Tazzmo also had a puncture wound to his neck and we believe that he had decided to die in our gardens as the infection was very bad by that point. We brought him in, had a vet work him over and he was with us ever since. He was a true gift from the streets and a great friend.
Contact some animal rescue groups. Find yourself a great friend!
Hurricane Harvey and Irma left many traumatized people and animals behind. Their homes were destroyed and their lives have been shattered. If you want to help an animal that really needs a friend, contact the animal rescue groups and Humane Societies on the Gulf Coast and you won't regret it.
As President Harry Truman sort of said," If you want loyal friends, adopt some dogs."


Here are a pair of little pups we rescued. The black one was hit by a car (that did not stop) right in front of our workshop. She had managed to crawl out of the street and into our gardens and that was as far as she could go. We named her Driving into Miss Daisy or Daisy for short. Daisy had some fractured bones but has recovered well with some weeks of care and isolation. The fine looking brown dog is her loyal sibling that would not leave her side when Daisy was hit by a car. We named him Bentley. We heard the cries of pain and found them starving, thirsty and needing a friend. Luck was with them once again as we took both to the vet for care.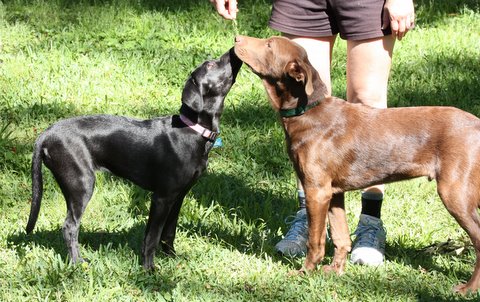 .
Daisy on the left was adopted by some cool people in San Francisco. Bentley grew into a beautiful dog. His naturally loyal character is growing and he loves to hang out and just be a happy dog. We think he must have been a combination of horse and dog as his legs are very long. Bentley has now been adopted by a lucky family in San Antonio. These two were a pair of lucky dogs that found great homes.
We have now taken in Kayla, a nice little stray street girl that we found with one of her toes almost ripped off. The toe bone was sticking out. She was a mess. We took her to the Animal Hospital in Houston where we had her toe cleaned up and she was spayed. She is responding well to good food, A/C and lots of playing with our dog pack. The toe is healed up and she looks great. Kayla has a sweet personality, a pretty face with nice markings, is not interested in cats and likes to hang out and play with other dogs. She is a great companion. If you are interested in adopting her, let us know. In these photos it's about 103 degrees F. outside and she is a little hot dog.

Our canine family hangs out.
We receive an amazing number of e-mails from fellow animal rescue people out there that find our website while searching for British car parts and it is good to know that you are doing what you do.

We adopted a beautiful golden one eyed Cocker Spaniel that came to us from Gulf Coast Cocker Spaniel Rescue in Houston. Her story is that someone in a car observed another car driving down the road which slowed but does not stop and the people inside the car throw a little dog out a window and into a ditch. The evil people then sped off. The amazed and nice person took charge, saved the dazed little girl and turned her over to the dog pound where the Cocker rescue group saved her from lethal injection. Little Farina was understandably a bit freaked out when we received her but we have been working with her for a while and now she is just fine. She has a sweet disposition and gets along great with our dog pack.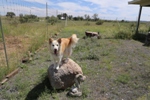 Here is another addition to our pack. Lola is a Samoyed and was a foster with Red Collar Rescue. We adopted her and will stay with us forever. Be sure to visit all of their great dogs and cats up for adoption at www.RedCollar.org.
Jasmine, our little red Husky was born with a short flip paw on one front leg and the other front paw was malformed. Jasmine loves to have fun as all dogs do. She was found wandering on a street where she had been dumped. We adopted her and had a prosthetic leg made by a Houston animal prosthetic specialist so she can run with the rest of our pack. When Jasmine is wearing her leg, she can run like a normal dog and has a great life.
A local Houston rescue group, Scout's Honor Rescue, is helping dogs and cats not only by rescuing them from certain death at our pounds, but also helping them long-term by sponsoring free spay and neuters by using the SNAP (Spay/Neuter Assistance Program) mobile truck. If you want to help contact SHR at www.ScoutsHonor.org.
Another recently-formed rescue group is Rescued Pets Movement. This group is unique in that they pull dogs and cats from Houston's local pounds and transports them to fully vetted rescued groups in Colorado who have foster homes and sometimes adoptive homes waiting. You see Colorado has had mandatory spay/neuter laws for over two decades so they do not have the tremendous overflow of pets as in Texas. If you want to help by sponsoring an animal and literally save their life visit them at www.RescuedPetsMovement.org.
The people that do such evil deeds? Well, you can probably guess what we think about them. Shark food? No, we like sharks.
A good thing to do is to look around your area for animal rescue groups and:
1. Send them some money. They will spend it on food and shelter for animals they have rescued.
2. Volunteer at an animal rescue group to clean up and walk some nice dogs, give them some love and let them know that life will get better.
There is a HBO movie series called One Nation Under Dog. Check it out!
Animal Rescue Here are graphic photos of dogs that had a very hard life, were rescued and we are helping them by donating money for their care at a local animal hospital. These are not pretty pictures but they are real.
Let's get physical:
F
rom downtown Houston, take I-45 North to the West Road exit (exit #59). West Road is an exit south of the
Houston Intercontinental Airport exit. Upon exiting the freeway, make a quick maneuver to the right lane of the feeder street and turn right on Bluebell (like the ice cream). Drive down two blocks until Bluebell intersects Airline Drive and turn left. We are around the corner on the left behind the green ornamental iron fence.
From the Katy I-10 area or coming from 290/Austin, take the Sam Houston Toll Road to I-45 North. Turn south on I-45 towards town and exit on West Road ( the first exit you come to). Turn left and drive down to the second red light which is Airline Drive. Turn right and we are 1/2 a mile down on the right.
F
rom the Woodlands and the great North, drive south on I-45 to West Road and turn left. Go to the second red light (Airline Dr.) and turn right. Look for our sign on the right about a 1/2 mile down.
F
rom the Kingwood area or the Houston Intercontinental Airport (IAH), take Beltway 8 West to I-45 South, exit on West Road and turn left. Drive to the second red light and turn right on Airline Drive. We are on the right side about a 1/2 mile down behind the green ornamental steel fence.
"A wheeled vehicle will drive as well as the average condition of the total sum of all the parts that have not as yet fallen off."
quote attributed to our ancient ancestor Single Malt Scot MacClymonds XXXI around 1571
The contents of our website are subject to change any time with new photos and material as inspiration strikes! Please check back from time to time as interesting jobs come through and various cars are offered for sale. Hit refresh and check out our car photo rotisserie at the top of this page.
Scott MacClymonds Inc. is a Texas corporation and in spite of rumors to the contrary, Texas is still part of the USA. The Company is based in Houston, Texas and conducts business through wholly-owned subsidiaries; Sport and Classic Car Company and Billions of Car Parts Company.
Unless you are moving on to read our serious and non -nonsensical automotive chapters about Rolls-Royce and Bentley parts and cars as well as many other cars, good bye and good luck.
Carl Sagen famously said," We are all made of star stuff".
Somewhat less famously we say, " We and all cars are made of star stuff". ( and lots of nuts. )
Come back again now that we have you right where you want us.
Live long and prosper.
We wish we had more time to write less.
After while
crocadile
So say we all.
Adiós muchachos
Sales and E enquiries please use our contact form
Our earthly address is:
Sport and Classic Car Company
10525 Airline Drive
Houston, Texas 77037
USA
Here's our landline number.
281.448.4739
so call us maybe...
04-Jan-2022 04:49 PM -0600